Walking Through Coventry Data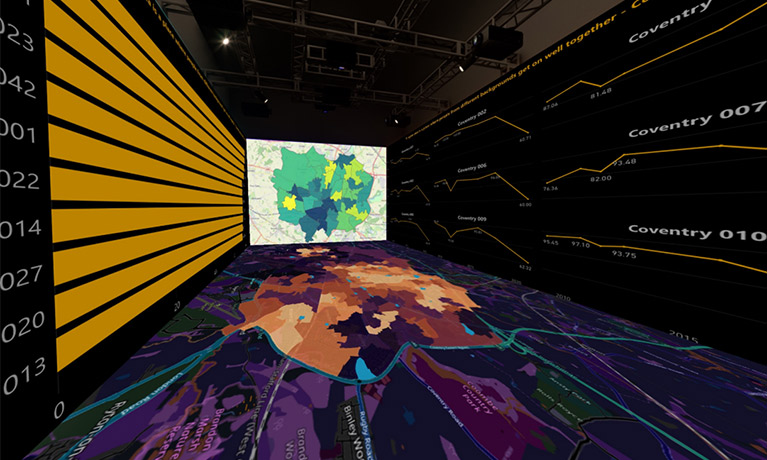 Public lectures / seminars
---
Tuesday 13 December 2022
03:00 PM - 05:00 PM
Cost
Register Now
Event details
Last entry: 4.30pm
Coventry's year as the UK City of Culture 2021 has generated an unprecedented amount of data relating to cultural participation, perceptions and engagement. This has made Coventry into what is perhaps the most data-rich place in the world for cultural data.
Alongside this, Coventry has, uniquely amongst local authorities, a Household Survey − conducted every two to three years since 1988 − which asks a representative sample of Coventry residents about their views of their local area, city, behaviour, concerns, and in recent years, their wellbeing.
These data amongst other demographic, housing and environment, economy and prospects, and health and wellbeing data, enables cultural data collected through UK City of Culture 2021 to be compared and contrasted with other metrics.
On 13 December 2022 stakeholders are invited to Coventry's Reel Store, the UK's first permanent digital gallery. They will be able to experience how data insights can revolutionise cultural organisations and communities.
Coventry (UK City of Culture 2021) data will be displayed immersively on The Reel Store's gallery walls to provide a new way of understanding different areas and trends within the city. Data will be displayed in a loop of approximately eight to ten minutes.
A Coventry City Council data analysts will be on hand with access to the data sets to answer any queries visitors may have.
The Reel Store's café will be available to provide refreshments.
This event is part of the place-based knowledge exchange project entitled City Change Through Culture: Securing The Place Legacy of Coventry City of Culture 2021.
The project has received funding from the Arts and Humanities Research Council (AHRC), part of UK Research and Innovation.
Image: mock-up of Coventry data at The Reel Store (Si Chun Lam)
See the research project page here.
Enquiries
For enquiries please contact Tim Hammerton