The Economic Transformation of Coventry City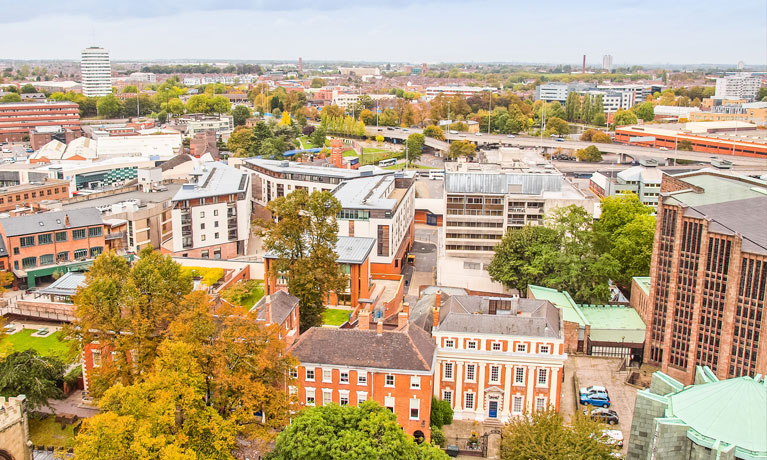 Public lectures / seminars
---
Wednesday 13 April 2022
01:00 PM - 02:15 PM
Location
Cost
Introduction
Over the last number of decades Coventry has undergone significant transformation socially and economically. This Seminar explores two aspects of these changes. In the first part of the event Dr Jason Begley will explore structural change in the local economy, demonstrating through occupational shifts how the emphasis on automotive production activities that were the most significant industrial presence in Coventry up to the turn of the Millenium, has given way to a number of service sector activities, most notably in education and health. In the second part of the Seminar Shamala Evans-Gadgil will turn to economic future of the city, looking at Coventry's role as a living lab where innovative technical solutions are trialled on a regular basis. The presentation will touch on innovative projects, some of which are first in UK, with a specific emphasis on one emerging technological solution, Dynamic Wireless Power Transfer (DWPT).
Talk 1: Occupational change in Coventry city since the 1990s

Speaker: Jason Begley is an Associate Professor at Coventry University, currently located in the Research Centre for Business in Society. He has been the Academic Director for Postgraduate Researchers within the Centre since 2015, as well as being a faculty lead in postgraduate research, supporting Coventry University's PhD programme since 2016. He has supervised a number of doctoral researchers in this time, primarily in the field of economic development. He has also published extensively in the disciplines of Economic History, Business History and Economic Development.

Abstract: This talk will explore the changes that have occurred in Coventry over the last three decades, extending earlier research by Healy and Dunham (1994) to create a longitudinal study of industrial and occupational change in the city. A key outcome of this exercise will be to consider economic diversification and the emergence of sectors like health and the knowledge economy. To achieve this the initial step was to develop a shift-share analysis to demonstrate occupational and structural change from 1991-2020, and then underpin this work with further examination of key emergent industries and sectors. The findings support the argument that small and medium-sized businesses working with broadly similar technologies have built, at times by policy design, on the legacy left behind of declining industrial concerns. However, despite the emergence of these phoenix industries, especially in the health and education sectors, labour specialisation within the local workforce has declined. Graduate mobility and low graduate retention rates have seen a steady drain of highly qualified workers out of the city. With limited external knowledge spill overs and local labour specialisation inhibited by mobile, highly qualified workers, some aspects at least of Coventry's emerging economic sectors fall short of the notion of a business activity that is embedded in the social fabric of the city.

Talk 2: Determining the factors significant to the success of dynamic wireless charging systems

Speaker: Shamala Evans is a 3rd year part time PGR at Coventry University and is also an experienced Senior Civil Engineer and Programme/Project Manager, with a demonstrable track record of success in the design and implementation of challenging, complex and wide-ranging infrastructure projects. Her experience includes (1) Innovation projects in zero emission, electrification, battery storage and management; (2) Local Transport Plans, including Network Efficiency Schemes, Waste Management Schemes; (3) Traffic Management, including traffic calming measures; (4) General roadworks, including road geometry; and (5) Regeneration, public realm and urban environment schemes.

Abstract: Coventry City is identified as a living lab where innovative technical solutions are trialled on a regular basis, many times in partnership with Coventry University. This presentation will touch on innovative projects, some of which are first in UK which will be followed by an overview on the publication of a study in MDPI energies journal. The study looked to determine the political, economic, social, and technical (PEST) factors by actively engaging UK stakeholders through online in-depth and semi-structured discussions. The focus is on dynamic wireless power transfer (DWPT) due to its wider market reach and on the basis that a comprehensive review of the literature indicated that the current focus is on the technical challenges and hence there is a gap in the knowledge around application requirements, which is necessary if society is to achieve its goals of electrification and GHG reduction. Qualitative analysis was undertaken to identify factors that are critical to the success of a DWPT system. The outcome of this study is knowledge of the factors that determine the function and market acceptance of DWPT. The results will make a significant contribution to the emerging knowledge base on ERS and specifically DWPT.