Frequently Asked Questions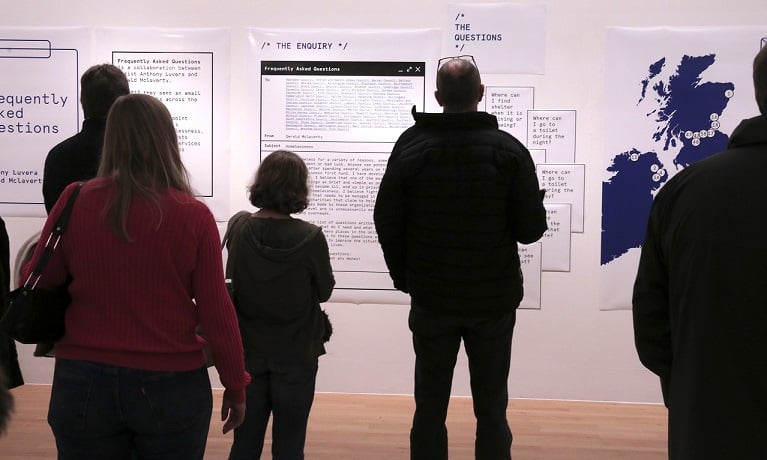 ---
Wednesday 27 November 2019 to Thursday 12 December 2019
10:00 AM - 05:00 PM
Location
Cost
Event details
If you were homeless, where would you go for help?
Frequently Asked Questions, a new exhibition by artist Anthony Luvera (Associate Professor from the Centre for Arts, Memory and Communities), in collaboration with Gerald Mclaverty, uncovers the shocking and poignant challenge faced by those living on the streets.
Produced in association with Museum of Homelessness, the exhibition gives a picture of how services both help and hinder the estimated 320,000 homeless people in Britain, and offers an insight into the challenges and realities faced by the most marginalised individuals as they attempt to access systems of care.
There are also a number of public events which are freely available to attend at the exhibition venue:
Launch Party
Date and time: Tuesday 26th November, 6:00pm – 9:00pm
Description: Featuring a performance from Rising Voices Recovery Choir.
Make Them Count
Date and time: Wednesday 27th November, 11:00am – 1:00pm
Description: A confidential and safe space to ask questions about homeless deaths and remember people we have lost.
Rough State
Date and time: Thursday 28th November, 6:30pm – 8:00pm
Description: A round table panel discussion about homelessness with The Bristol Cable, including speakers:
Charlie Eddisford (CHAS Bristol Housing Advice Service)
Anthony Luvera (Artist, Coventry University)
Ben Richardson (Caring in Bristol)
Joe Smith (Crisis)
Strata: A Visual Assembly for Homelessness
Date and time: Saturday 7th and Sunday 8th December, 10:00am – 5:00pm
Description: A two day workshop delivered by IC Visual Lab to re-think the imagery commonly used to represent homelessness, featuring:
Rachael Kiddey (University of Oxford)
Anthony Luvera (Artist, Coventry University)
This exhibition and all associated events are free to attend. No registration required.
Enquiries
For enquiries please contact Anthony Luvera