Feminist Research, Craft Theory And Virtual Materiality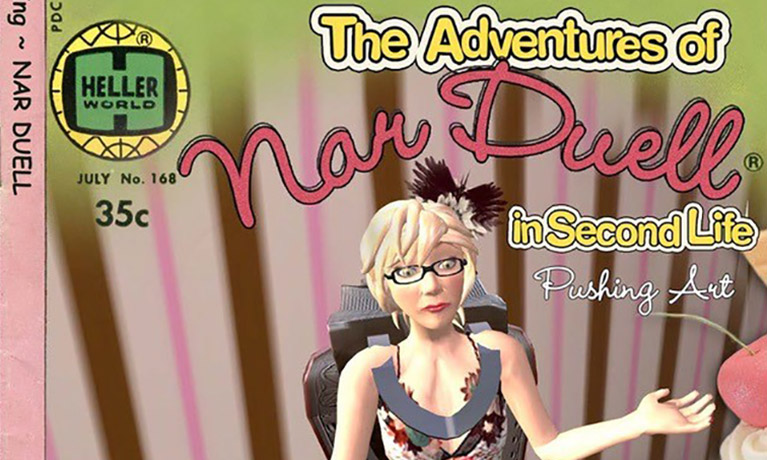 ---
Wednesday 08 May 2019
11:00 AM - 12:30 PM
Location
Event details
Visit to DMLL by Dr Lynne Heller and Nina Czegledy, OCADU Toronto
In this seminar, visiting artist and scholar Dr Lynne Heller will give a talk about her research which brings a feminist perspective, crafts theory and collage methodology to research practice exploring the area between material and virtual realities. Heller will propose that a mother daughter relationship is a metonymy for a human to avatar affinity, through which the boundaries of the material and the virtual become a seamless spectrum.
Dr Sarah Merry of the Centre for Postdigital Cultures Research will act as respondent to the talk.
Biographies of Speakers
Lynne Heller is a post-disciplinary artist, designer, educator and academic. Her interests encompass both material and virtual culture, performance, graphic novels and sculptural installation. Heller completed her MFA at the School of the Art Institute of Chicago in 2004 and her PhD in 2016 at University College Dublin, Ireland from the department of Gender, Culture and Identity in the School of Humanities and Arts, with a research focus on feminist practice in online culture. Her research was practice-based, with a specialty in Digital Media Arts. She is an Adjunct Professor at OCAD University, as well as co-director of the Data Materialization Studio and Reviews Editor of Virtual Creativity, Intellect Publishing. She is also an adjunct faculty member of SMARTlab, Ireland.
Sarah Kate Merry is a Research Fellow in the Centre for Postdigital Cultures. Her research focuses on the establishment of trust and the perception of reality online, the benefits of non-active participation in online communities, and the representation of women in popular media. She also works on the project management of the Erasmus+ project PACES (Progression of Accessibility Centres in higher Education for Students with disabilities in North Africa), which seeks to improve access to higher education and employment for people with disabilities in Egypt and Morocco.
Benefits of the course
Learn about research practice from a visiting scholar and internationally exhibiting artist
Hear from two researchers with interest in feminist analysis of online media
Consider the spectrum of the material/virtual
Topics covered include
Human to avatar affinity
The spectrum of the material/virtual
Feminist perspective
Crafts theory and collage methodology
Who should attend?
This workshop is open to all Coventry University staff but will be particularly useful for individuals with an interest in feminist research, craft theory and virtual materiality.
Enquiries
For enquiries please contact Jackie Calderwood