C-DaRE Invites...Professor Roger Kneebone in conversation with Professor Sarah Whatley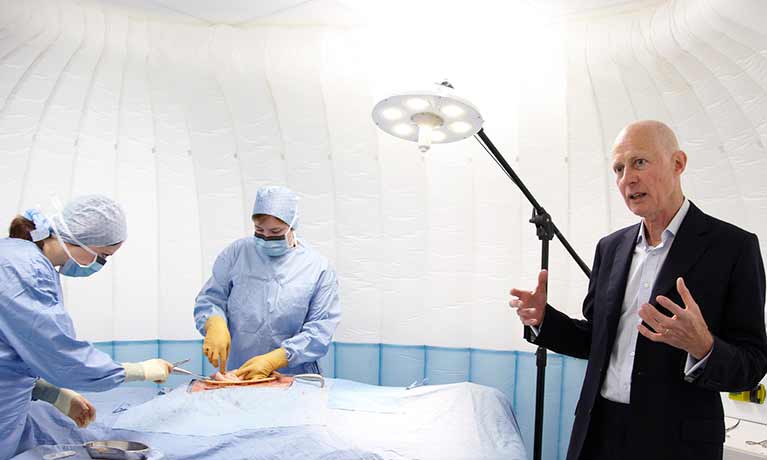 ---
Thursday 13 June 2019
01:00 PM - 03:00 PM
Location
Cost
Event details
A conversation with Roger Kneebone, Professor of Surgical Education and Engagement Science, Imperial College London
Roger is a clinician and educationalist who leads the Centre for Engagement and Simulation Science at Imperial College London and the Royal College of Music–Imperial Centre for Performance Science. His multidisciplinary research into contextualised simulation and embodied knowledge builds on his personal experience as a surgeon and a general practitioner and his interest in domains of expertise beyond medicine.
*Image courtesy of Sara Lyndsey, Photographer.
Biographies
Roger is fascinated by the embodied knowledge that underpins science, medicine and the visual and performing arts. In addition to his work with Imperial scientists and clinicians, he collaborates with the Victoria & Albert Museum, Science Museum, Natural History Museum and the Royal College of Art. In 2017 he became the first Honorary Fellow of the City and Guilds of London Art School and is a full member of the Art Workers Guild. He is the 2018 Gresham College Visiting Professor of Medical Education. In 2019 he became the fourteenth Royal Academy of Arts Professor of Anatomy.
Roger also presents Countercurrent, a fortnightly iTunes podcast featuring 40-minute conversations with people whose interests and careers cross boundaries.
Sarah is the Director for the Centre for Dance Research (C-DaRE). Her research focuses on the interface between dance and new technologies, dance analysis, somatic dance practice and pedagogy, and inclusive dance. The AHRC, the Leverhulme Trust, Wellcome Trust and the European Union fund her current research, which is broadly focused on the impact of digital technologies on tangible and intangible cultural heritage. She led the AHRC-funded Siobhan Davies digital archive project, RePlay, and has worked with Davies on other artist-led research projects. She is founding Editor of the Journal of Dance and Somatic Practices and sits on the Editorial Boards of several other Journals.