Biomechanics Project
Researchers in our Centre for Mobility and Transport are harnessing the power of Hollywood technology to provide unique insight into the health of gardeners, sports men and women, and dancers. The aim is to learn more about the most complex mechanism known to man – the human form itself.
Using motion-capture technology – the like of which was made famous through the creation of movie characters like Gollum – our experts are able to body movements.
Depicted on-screen with an avatar compete with skeleton, muscles, joints, and the forces going through them, they can show precisely how they are being worked during different activities.
This cutting-edge research into human biomechanics is made possible by musculoskeletal modeling software developed at Coventry University, and has allowed the centre's researchers to collaborate with some of the UK's most prestigious organisations with an interest in human performance, including the England cricket team and the Royal Ballet. The centre is also assisting with rehabilitation exercises for paraplegic patients.
Recent work has focused on the wellbeing of gardeners and reducing their risk of injury. Our expert team is working with the Royal Horticultural Society on a long term project to research which tools and methods are most effective in helping gardeners – particularly the mature gardener – to improve their health.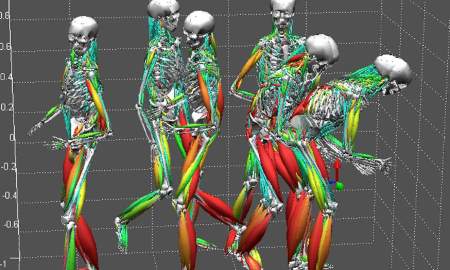 The project has been such a success that the researchers were invited to exhibit their state-of-the-art work at the world-renowned Chelsea Flower Show, where they met Her Majesty the Queen and were awarded a coveted bronze medal for their work showcasing the science behind gardening.
Back to Health and Wellbeing