University's expertise on tap for science firm which keeps beer pipes clean

Student news / Research news
---
Friday 28 March 2014
Press contact
---
Students at Coventry University have been working with a science and technology firm on an innovative solution to a problem faced by pubs and bars across the world.
Biomedical science undergraduates Raquel Rossiter and Daniel Perfitt are on placement with Stamford-based Cambridge Scientific Solutions (CSS) to help refine its new technology which keeps pubs' beer dispense lines free from unwanted 'biofilm' – extending the life of beer and preserving its taste.
Raquel and Daniel are working out of the University's microbiology labs in Coventry to help CSS understand precisely how its pioneering 'BeerSaver' system is working at a detailed microbial level – and to understand how the technology could be developed and used in other sectors such as healthcare.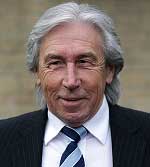 The BeerSaver system – which was originally developed by CSS's director Ian Lee (pictured) – uses a lightweight coil within the beer lines which carries a harmless, low-frequency current to stimulate the solids in the fluid and stop them being deposited on the pipes' inner surfaces.
Biofilm – otherwise known as 'slime' to disgruntled landlords – is the build up of these solids, which stick to surfaces and to each other and are usually made up of beer-spoiling microorganisms such as Pediococcus and Saccharomyces.
The resulting slime, which often collects on the inside of beer lines before the beverage has past its best, can be sources of contamination and will adversely affect the taste and quality of beer on draught in a pub.
CSS joined forces with Coventry University to gain a better understanding of how its unique technology could be applied to other sectors, for example in industrial or hospital environments where biofilms can be harmful in spreading germs.
The collaboration came about through the employability and placement unit in the University's Faculty of Health and Life Sciences (HLS), which builds relationships with companies across the country to secure student internships and help firms access the cutting edge technology and expertise within the University.
Ian Lee, director of Cambridge Scientific Solutions, said:
We knew our BeerSaver technology was effective and did what it said on the tin, but to fully understand how we could develop the idea and expand it into other market sectors where it could make a real difference, we were keen to tap into the expertise at a university.

The students Raquel and Daniel have been doing a great job researching what is happening at a detailed level as the biofilm tries to form and as BeerSaver stops it happening, and it's already proving hugely beneficial as we explore new applications for the system.
Raquel Rossiter, 21 and from Bracknell, said:
It's a fantastic experience for us to work so closely with an innovative science company during our studies. What's especially useful is being able to see and do in practice what we're learning about through our degree, particularly when we're working on something that is quite leading edge. Hopefully one day we may even be able to say we were part of a scientific breakthrough!
Karen Quinn, head of the health faculty's employability and placement unit, was instrumental in arranging the collaboration. She said:
The unit has developed successful relationships with many health and life science employers, and these collaborations are supporting students to obtain vocationally-relevant placements and successfully progress into graduate employment. There is also further scope to develop many more student research projects and applied research outputs.