Uni's new science and health facility to transform future generations' health services training
Tuesday 26 September 2017
Press contact
---
A new university building – featuring hospital wards, an ambulance and an operating theatre – will transform training for nurses, paramedics and other health professionals.
Coventry University's £59 million Science and Health Building, which officially opens its doors for teaching on Monday, gives students hands-on experience in an exact replica of the environments they will work in during their future careers.
Many of the students who learn in these facilities will go on to be employed in the region's hospitals, clinics and ambulances after they graduate.
More than 75 per cent of nursing, midwifery and paramedic science students from the UK who graduated in 2015/16 from Coventry went on to work in the West Midlands.
The new building is the only one of its kind where university students will be able to train to care for a patient at every stage of their medical experience: from paramedics arriving at their house and their subsequent ambulance journey, to their stay in hospital, through to their discharge and rehabilitation.
It incorporates two fully furnished terraced houses, with one fitted with the top of the range assistive technology, such as adjustable kitchen units and a shower that can be controlled by an iPad remotely.
These houses aim to give students realistic experiences of working within people's homes and are equipped with the latest augmented reality technologies to help them learn from different scenarios.
The building is not only about training for those on healthcare courses, but brings all of the Faculty of Health and Life Sciences' practical facilities under one roof for the first time, including professional-standard laboratories and Olympic-grade fitness and sports research areas.
A huge laboratory, called Lab+, is the first industry-grade education-based laboratory of its kind in the country, and can host more than 250 students at once.
Sports research and teaching facilities include an environmental chamber that can simulate the altitude of Mount Everest, a running track, biomechanics area and 3D motion capture camera equipment.
There is also a sports therapy clinic which is open to the public.
The building, in Whitefriars Street, in the city centre, will be used for teaching undergraduates, postgraduates and for research, as well as playing an important role in the community.
Some of the facilities will host elite athletes for training, community groups, and public events as well as giving school children a chance to experience university life.
Professor Guy Daly, Pro-Vice-Chancellor of Health and Life Sciences, said:
"It is absolutely crucial that we prepare our students for the challenges and situations they will face in their future careers. By investing in such incredible facilities as this we are ensuring they are one step ahead when they go out into the world of work.

Whether they are paramedics who have learnt to ventilate a patient while in our state-of-the-art ambulance, occupational therapists who have practised supporting a person returns home from hospital in our community houses, or sports therapists who have treated a member of the public for a running injury – they will have experienced real-life situations within the safety of the university.

This building is for the whole community and will have a lasting legacy for the city, region and further afield. The research being carried out here has the potential to change lives and the healthcare workers trained here will save lives. We hope it will inspire, while bringing learning to life."
Midwifery student Charlene Cole said:
"We are so excited about studying in the new Science and Health Building.

As student midwives we will be using state of the art, simulation equipment enabling us to learn difficult and challenging techniques and practice in a safe environment.

Working and learning in such a well-designed and well equipped building right in the city centre campus is such a privilege. I can't wait to start my third year."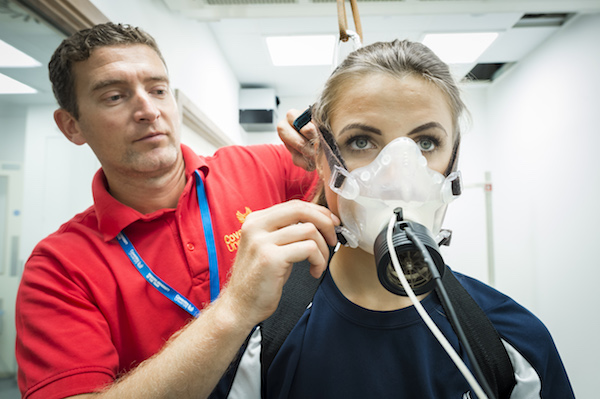 Image: Student working in new Science and Health building.
---
For further press information, photography and filming opportunities, or to arrange interviews with staff or students, please contact Alison Martin, press officer, Coventry University, on 02477659752 or email alison.martin@coventry.ac.uk.