Uni helps kick start migrants' cleaning firm and a catering company for stay at home mums
Tuesday 19 September 2017
Press contact
---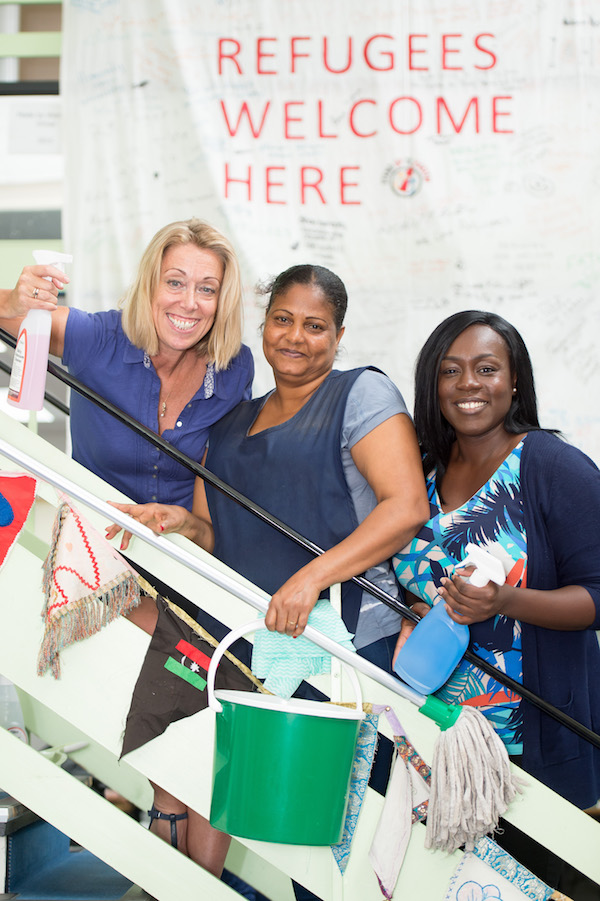 Two brand new community conscious businesses are now up and running thanks to backing from Coventry University's dedicated entrepreneurship support team.
Over the last few months SpringAction, a cleaning company run by Coventry Refugee and Migrant Centre, and Mum's Kitchen, a catering firm employing stay at home mums, have been getting help from Coventry University Social Enterprise (CUSE ), the university's community focussed subsidiary.
Now open for business, the companies came to fruition as a result of a public competition that CUSE ran earlier in the year to encourage the development of new socially beneficial business ventures.
The contest attracted a great deal of interest with entrants including representatives from Coventry Refugee and Migrant Centre, who were looking to set up a cleaning business employing newly arrived migrants and refugees who had permission to live and work in the UK but who were struggling to find employment.
Nasreen Farid, an interpreter and chairperson of Coventry based charity Helen Women's Project, also applied for support for her plan for a catering business for stay at home mums in the migrant BME community that she supported through the charity, many of whom were feeling isolated and who would therefore benefit from socialising with others in a similar position while putting their cooking skills to use.

OUR TEACHING AWARDS
Coventry University
Competition judges were impressed by the proposals put forward and as a result both were chosen winners, sharing a prize fund of £10,000 to help with start-up costs and benefitting from workshops, mentoring and coaching sessions from CUSE and others already running their own social enterprises.
SpringAction now has contracts with a number of businesses in the city and employs eight cleaners, with more work and cleaners coming on board. Mum's Kitchen has set up its base in the city centre and 15 women from the Helen Women's Project are doing work for the company.
Keith Jeffrey, managing director of CU Social Enterprise, said:
"As our name suggests, we're here to nurture and support social enterprises that make a positive impact on people and their local communities.
SpringAction and Mum's Kitchen are two great examples of this and they are making a real difference to people's lives by providing employment opportunities, improving their confidence and boosting their self-esteem. And of course they are making a contribution to the local economy."
Jan Malatesta, Employment & Service Development Officer at Coventry Refugee and Migrant Centre, said:
"SpringAction offers refugees and migrants an entry into the job market and the chance to get experience and references while improving their English language skills, along with their knowledge of working culture and life in the UK.
The university has been really helpful in setting up the business so we're grateful to them for all the support they've given us.
Nasreen Farid from Mum's Kitchen, said:
The help we received from Coventry University has been great and it's given us the opportunity to get our business up and running, which is fantastic but what is especially satisfying for me is seeing the change in the women working for Mum's Kitchen. They're enjoying the work and the social aspect and they've really grown in confidence as a result.;
Coventry University has opened a new Enterprise Hub on Whitefriars Street in the city centre where staff and students who have a business idea, and members of the public who want to develop a social enterprise, can go to for advice, guidance and support.