Student helps families fleeing ISIS while studying for a law degree

---
Wednesday 12 July 2017
Press contact
---
A student is helping thousands of survivors who fled extremism in Iraq and all while studying at Coventry University.
Zinah Mohammed began collecting and distributing life-saving donations of food and warm clothing to thousands of refugee families who had been forced out of their homes and into safe camps across Iraq in 2013.
The 26-year-old set up the Shine Together charity team and with the help of 20 young volunteers to promote the message of unity. They have since taken lorry loads of food, warm clothes, nappies and milk supplies to families, and helped take medical treatment into the camps.
Zinah said it was after being forced to leave her own home and seeing the devastating effects of war that she decided to turn her experiences around to help make a difference.
The Iraqi national now studying an International Business Law master's at Coventry University, said with more and more people fleeing the threat of ISIS since they took control Mosul in 2014, she won't give up despite being more than 3,000 miles away.
Zinah said:
"In 2014 ISIS took part of my country and millions of people had to flee to camps near my home. They were desperate. The winter was so cold they were dying and I wanted to help.

It started with Facebook campaigns so we could send blankets and warm clothes and it just grew. Every weekend I would be organising collections and campaigns and getting businesses on board to give donations and help with transportation.

Since I've been in Coventry it hasn't stopped. We have helped pay for the first two surgeries for a 14-year-old Syrian boy who suffered severe facial and neck burns in an explosion, and are now waiting for the third.

Keeping up the work while studying has been a challenge, especially as the educational system here is so different to what I am used to, but I am in constant touch with the volunteer team back in Iraq to make sure we carry on.

This is not about nationality or ethnicity – we are all humans. These people are desperate. They have nothing and just want to be safe. Some of them have not had access to proper food or healthcare for two years under ISIS control.

It is getting worse. One of the camps I helped in 2013 had 35,000 people in, now this number has grown and four or five more have been set up. I have family who are still trapped and my cousin was killed by ISIS because he refused to join them.

I am inspired by my own experiences and now I consider everything I've been through as a privilege even though it was bad. From ISIS coming to my country, the war, having to flee and losing my cousin – it's given me the chance to help others and raise awareness to encourage change."
er work has so far seen her chosen as one of 54 international delegates from 17 countries around the middles east, Asia and Africa through the Prince's Trust International Leadership programme – a year-long scheme for young people with the potential to make positive change in their communities.
Zinah says she feels proud and privileged to be a part of the programme which has led her to meet leaders including Kofi Annan, former seventh secretary general of the United Nations; and Kailash Satyarthi, a children's rights advocate and winner of Nobel Peace Prize in 2014.
She said
"Through the Prince's Trust I've met many wonderful people who are all doing so much, it makes me want to do more and not give up. I see how remarkable it is when people come together to help, and that is so inspiring.

It has been such an amazing learning journey but the most memorable part was meeting Prince Charles which gave me the chance to see the power of positive change making and the impact of determination and dedication."
While in Coventry she plans to launch a friendship project for the Prince's Trust to link school children in the UK and the camps in Iraq in hope of fostering more understanding and awareness of the struggles faced by refugees and internationally displaced people.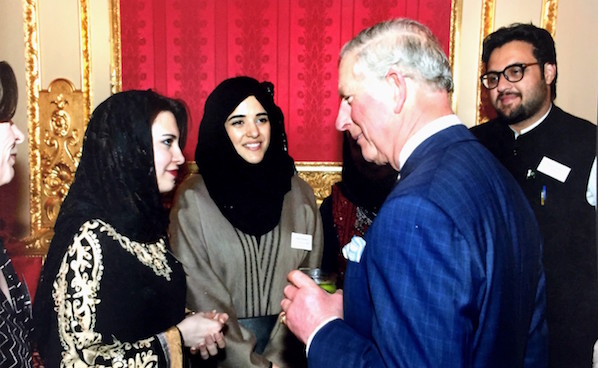 Image: Zinah meeting the Prince of Wales.