Star Wars, hydrogen cars, and R2-D2's long-lost lady friend

---
Wednesday 16 December 2015
Press contact
---
As fans around the UK prepare for the release of the new Star Wars film, for one Coventry University professor the occasion will bring back fond memories from a long time ago in a galaxy far, far away....
John Jostins, professor of sustainable transport design at the University, was one of the men who built the more advanced version of the robotic droid R2-D2 for the series' episodes V and VI – The Empire Strikes Back (1980) and Return of the Jedi (1983).
And he has revealed that a female companion for R2-D2 was first experimented with in the late 70s, over thirty years before a lady version of the loveable droid (R2-KT) makes an appearance in the new film, The Force Awakens – although the studio kept it a close secret, including from his team.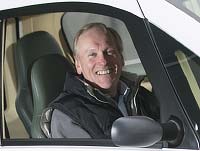 "We once got one of the R2-D2s back into our workshop from the studio to find that they had painted all the blue panels and detail on it bright pink," said Jostins. "They had obviously been experimenting with a female R2-D2, which is interesting given that it's only now in the new movie that this idea is making it onto the screen in the form of R2-KT. It was obviously ditched as a storyline for the original three movies because we were never asked to make any more."
Rewind a year and Jostins – who now designs and builds hydrogen fuel cell cars through Coventry University spin-out firm Microcab – graduated from Lanchester Polytechnic in 1978 with a specialism in interactive electronics, and soon found himself in the team tasked with bringing to life a robot that was destined to become a movie icon.
The unlikely birthplace for R2-D2 was an unassuming former blanket mill in the sleepy Oxfordshire village of Crawley, which lay on the River Windrush near Witney – the mill had been converted into a light industrial estate, Crawley Mill, which was home to the White Horse Toy Company.
"It all started with a telephone call one January," said Jostins.
"My girlfriend at the time had a friend who was married to a guy involved in special effects, and she'd mentioned that I was looking for work. So he rang me up and asked if I could come down to the White Horse Toy Company the following day. He was asking if I was artistic, and could I make things? I'd done a lot of clay modelling, sculpture, and so on, so I said yes.
"I arrived at the company's workshop the day after, knowing nothing more than that there was something in the offing related to movies – but I didn't know it was Star Wars. There were two or three guys sitting around, and there behind the door was one of the R2-D2s from the first film, which I'd seen the previous year."
[The White Horse Toy Company]
"At that time, the White Horse Toy Company was only famous for making rocking horses. The story goes that George Lucas had seen one at a show in the States and decided on the spot that its creator should build R2-D2. So this tiny company in a village in the Vale of the White Horse was tasked with bringing a major movie character to life. There was scant skilled labour to be had in this rural part of England, so the call had gone out for creative people to get involved – and so here I was!
"The R2-D2 that had been built for the first movie, 'A New Hope', was a metal-bashed model with lots of sharp metal inside. It wasn't easy to replicate – if you wanted another one, you had to hand make it all over again. So our job was to remake R2-D2 using moulded composite parts, with a smooth and clean interior and with bits for Kenny Baker to operate, which the original didn't have.
"In the early months of 1979 we made eight R2-D2s. We literally had lines of R2-D2s being made for a good six or seven months, with arms and legs and different bits and pieces. It was a really difficult and fiddly thing to make with the technology available, but we did have support from the studio for various parts of the production."
[Kenny Baker]
"Two were specifically for Kenny Baker, primarily for scenes where R2-D2 is stationary, and these had two legs. Three had the central third leg with a motor so it could move. The rest were for general use and abuse, for example pyrotechnic work or, for example, for the scene in The Empire Strikes Back' where R2-D2 falls in a swamp and gets caked in muck.
"Kenny Baker actually came to the workshop in Crawley for a fitting. I remember he arrived in a Volvo estate with modified hand controls – it was one of the biggest cars I'd ever seen at the time! It was me who lifted him into the robot for the fitting, after which we made a raft of modifications and adjustments to accommodate him.
"We were really making it up as we went along. While Kenny was there, we had to dash to the Woolworths in Witney to get a pair of children's wellies to fix into R2-D2's feet. Kenny's own feet went part-way into R2-D2's so that he could rock it. And he didn't actually sit in it – we installed a modified child's car seat at an angle, so he sort of semi-stood. He operated everything from inside, responding to the other actors, turning the head, flashing the lights, doing the arms and getting excited. We had to fix some towel rails inside for him to hold on to – they were also from Woolies!"
[George Lucas]
"Then one day a helicopter landed in the field outside our workshop, and it was George Lucas himself coming to inspect our work. That was a pretty memorable day! We were told back then that there were 11 Star Wars films written and that we should expect more work, but of course it was over 15 years until the next movie."
[Star Wars: The Force Awakens]
"I'm definitely going to go and watch the new Star Wars film with my son. He once asked me when he was about four or five years old 'Did you make R2-D2 for the Star Wars films, Dad?' and I said 'Yes I did' and he replied 'Well how did you get it up there?' That's the power of the movies for you!"
Professor Jostins continued to work on special effects for both the big and small screens for a number of years – including for Superman II and Dr Who (for which he built cybermen) – before moving into the motorsport industry.
Click here to see Professor Jostins' appearance on BBC Midlands Today.
---
For further information, please contact Alex Roache, external press and media relations officer, Coventry University, on +44 (0)24 7765 5050 or email alex.roache@coventry.ac.uk.