Sports prof: teams and personalities must up their game on social media
Friday 23 January 2015
Press contact
---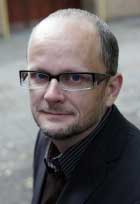 High-profile sports teams and personalities are struggling to get to grips with social media and its commercial potential, according to an expert in sport business strategy.
Professor Simon Chadwick, director of the Centre for the International Business of Sport at Coventry University, says that regular faux pas and a lack of engaging content are hampering many teams' efforts to generate either the buzz or the revenue that might be expected of a world-renowned organisation – and football clubs are often the worst offenders.
According to Professor Chadwick, the recent sacking of Manchester United scout Torben Aakjaer following the alleged posting of anti-immigration messages on his Facebook page is the latest example of sports teams struggling to control their image on social media.
Professor Chadwick said:
The incident highlights the uneasy, and indeed unclear, relationship that sport has with social media, especially in the context of its business concerns. Manchester United, with its corporate communications teams, commercially valuable brand and global fan base is compelled to take action against any suspect social media content with which it becomes associated.
Queens Park Rangers footballer Rio Ferdinand's recent suspension and fine for sexist comments he made on Twitter is also a case in point, according to Professor Chadwick.
Many of us – individuals and organisations alike – will be aware of the likely consequences should we post socially undesirable content on our social media sites. With higher profiles and greater followings, the stakes are even higher for athletes and those connected to the big businesses of sports clubs.

A player ranting on social media may be the epitome of free speech, but the fact that those such as Manchester United sometimes struggle to firefight is symptomatic of the need for sport to up its game in a social media environment that is rapidly maturing.
Professor Chadwick says that sports teams and personalities are, in any case, failing to make the most of the commercial and brand potential of their social media channels.
Social media is great for providing information about the line-up for a game, details about event timings and the latest news about a star player's injury. But otherwise, most in sport have struggled to create either the buzz achieved by Gangnam Style, or the revenues generated by other internet start-ups.

Indeed for many in sport right now, the extent of cutting-edge social media appears to be them posting videos on YouTube – something many 12-year-olds are capable of doing.
Even high-profile English Premier League clubs are not getting to grips with their global social media presence, says Professor Chadwick, citing one club's content stream.
It entails a group of willing volunteers in countries across the world translating daily messages and a ragtag assortment of announcements, photographs and press conference coverage. This is not the stuff of legend, nor is it a sturdy foundation upon which to generate and sustain revenues.

The challenge for sport will be how to handle what seems like a need for controlled openness, while at the same time finally delivering on the promise of 'jam tomorrow' revenue predictions.

Professor Simon Chadwick's comments were originally published in The Conversation. Read his original article.