Shropshire businesses urged to get in touch with high-tech support service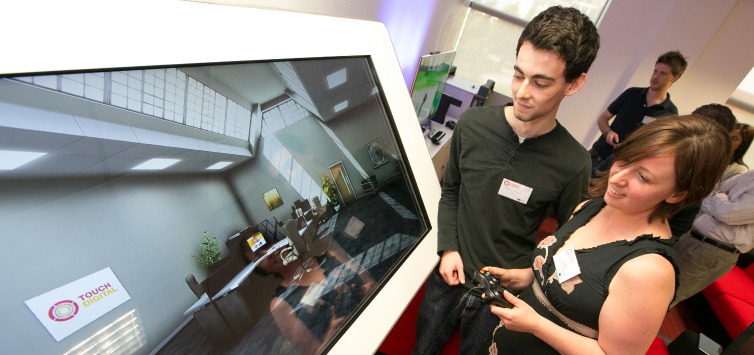 ---
Wednesday 11 September 2013
Press contact
---
Businesses in Shropshire are being encouraged take advantage of a recently launched technology support service from Coventry University.

Touch Digital is a new initiative which offers advice and support to Small and Medium Sized enterprises (SMEs) in the West Midlands who want to learn about and integrate digital technologies into their business and boost productivity.

Backed by the European Regional Development Fund (ERDF) and run in collaboration between Coventry and Aston universities, the Touch Digital tech lab at Coventry University Technology Park hosts an impressive collection of equipment including interactive touch screen tables, an array of smart devices and a state-of-the-art 3D printer.

SMEs from Shropshire and the surrounding region will be able to find out more about the project and some of the technology support areas available at a free workshop taking place at the RAF Museum Cosford on Tuesday 24 September 2013.

Getting Started with Touch Digital is one of a series of regional workshops taking place across the West Midlands. These informal, free events offer local SMEs the opportunity to learn more about what's on offer, find out how they can get involved in the project, view demonstrations and experience for themselves some of the technologies that could add value to their business.

Caroline Geraghty, Project Officer at Touch Digital, said:

This is our first event out on the road within Shropshire. We want to offer our support to SMEs within the region and I'd urge local companies that are interested in finding out how to integrate digital technology into their product development or business strategy to book a place and come along to what promises to be an interesting and rewarding event.

On site at RAF Cosford we'll be incorporating their 4D Simulator – which combines 3D film with physical effects - as an icebreaker to get delegates into the 'technology mode'. We'll also be focussing on 'Augmented Reality' - a powerful but relatively straightforward tool that can really bring a product or service to life and which is just one of the technology support areas available to businesses involved in Touch Digital.

We'll also be demonstrating how Augmented Reality can increase customer engagement and make products and services more visible, more impactful and ultimately more profitable. Delegates will also be able to have a go at using the technology themselves via pre-programmed smart phones and tablets that we'll be bringing along.

Getting Started with Touch Digital takes place from 10.30am to 1pm on Tuesday 24 September 2013 at the RAF Museum Cosford, Shifnal, Shropshire, TF11 8UP.

Attendance is free and a complimentary lunch and refreshments will be provided but places must be booked online in advance.

For further information please contact Mark Farnan, communications assistant, Coventry University, on +44 (0)24 7765 8245 or email mark.farnan@coventry.ac.uk.

Touch Digital
Touch Digital is a new initiative funded by the European Regional Development Fund. Based at Coventry University Enterprises Ltd, Touch Digital helps small and medium firms in the West Midlands to integrate the cutting-edge technologies into their business.

Further information about Touch Digital, including forthcoming road shows in the region, is available on the Touch Digital website or by calling +44 (0)24 7615 8207.