Shakespeare performed live by actors 1,600 miles apart in world first through university's 'Stargate'-style cyber stage

---
Wednesday 22 February 2017
Press contact
---
An act of Shakespeare has been performed live by drama students in Finland and the West Midlands thanks to a life-sized digital portal.
Coventry University's performing arts school teamed up with students in the University of Tampere to rehearse and perform an act of King Lear as if they shared a stage thanks to creation of the pioneering interactive window.
The project, aimed at eliminating global travel costs and bringing international students together on a single stage, follows a pilot in 2016 which was crowned one of the best new teaching ideas of the year with a Reimagine Education Award.
The virtual rehearsal room uses of a combination of stage and video-conferencing technology mirrored on both sides of the North Sea, requiring a much higher quality connection than phone-size apps like Skype.
The collective technology allow the students to make eye contact, move and match up voices around the room, and see and speak in real time with virtually no delays.
The screen portal was created last year in partnership between the two universities with hopes of eventually being made fully portable to address the costs and environmental impact of global travel for students worldwide.
Tom Gorman, coordinator of the project at Coventry University said:
"This all came about by accident as what we needed to work across two spaces didn't exist. We started experimenting and ended up creating this virtual theatre in real space and time.

It's very exciting and then we realised we had created something that nobody else had. This is a world first.

We merged video conferencing with theatre design and lighting to give directional sound and allow lots of people to interact at one time -everything we could do in a normal rehearsal space.

To be able to rehearse this would normally mean us travelling for up to four weeks and the costs and time of that are huge compared to being able to do it all in exactly the same way from home.

It is like walking into a room but the other side happens to be a thousand miles away. It is incredible how quickly it becomes normal to go to work and start working with Finland in effectively the same space."
Mikko Kanninen senior theatre lecturer at the University of Tampere said:
"Coventry University was interested in developing online teaching and they could offer us their expertise in Shakespeare so of course we were very interested.

For us it was like these British students and teachers were actually visiting Tampere without flights costs. Everyone had normal work hours and the budget was minimal but we had a real international workshop on Shakespeare."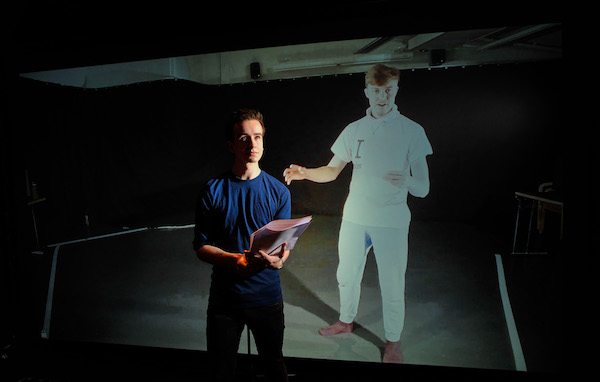 ---
For further press information please contact Hannah Smith, press officer, on 02477658352
or email

hannah.smith@coventry.ac.uk

.