Scholarship scheme for women engineers receives Tata Technologies support
University news / Student news
---
Monday 16 February 2015
Press contact
---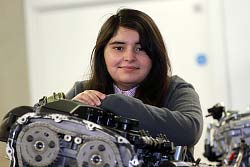 A Coventry University scholarship programme designed to support the disproportionately low number of women studying engineering and computing has received the backing of manufacturing industry leader Tata Technologies.
The Coventry-based engineering and product development specialist – whose UK headquarters are on the University's Technology Park – is providing £15,000 for the scholarship scheme to match-fund a donation made by the 29th May 1961 Charitable Trust.
Coventry University will use the funding from Tata Technologies and the trust to award a grant of £1,000 to each of the 30 female recipients of its Ada Lovelace scholarship, which supports women studying courses in its Faculty of Engineering and Computing.
Amongst the recipients is 18 year-old Zara Talat, who is in her first year of a mechanical engineering degree at Coventry University. Zara, who is originally from Kingston-upon-Thames and was a science, technology, engineering and maths (STEM) co-ordinator at her secondary school, said:
It's great to be awarded with this scholarship, I feel like we're being recognised and encouraged for being women engineers in a field of study which traditionally lacks female representation.

I've always felt very strongly about inspiring more women to take up STEM careers to break the stereotype of those subjects traditionally being targeted at men. Men and women often have different approaches to logical tasks and projects, and both can learn a huge amount from each other, so it's important for future STEM development that interest in these subjects is encouraged regardless of gender.
The scholarships collaboration is set to extend an already successful relationship between Coventry University and Tata Technologies, which includes the 'Ready Engineer' internship programme by which students can gain a year's work experience with the company – including the possibility of working at its offices in Singapore, India or North America.
Professor Michael Fitzpatrick, executive dean of the Faculty of Engineering and Computing, said:
The UK faces a challenge in addressing the disproportionately low number of female students taking up courses in engineering and computing, but it's a pleasure to be announcing this scholarship funding which is one way we are encouraging women into STEM careers.

We're extremely grateful to Tata Technologies and to the 29th May 1961 Charitable Trust for their support and funding for the initiative, which is demonstrating the positive impact that such generous giving is having on our students' lives and studies. We hope that the grants will inspire these students onto successful careers either with Tata Technologies or in the wider industry.
Nick Sale, chief operating officer for Tata Technologies in Europe, said:
At Tata Technologies we're passionate about engineering and keen to pass that passion on to the next generation of engineers. We're delighted to be able to support the Ada Lovelace scholarship scheme, which address two alarming global trends – the lack of talent entering the engineering profession and the low number of women selecting engineering as a career. It's our sincere hope that by sponsoring this scholarship scheme, we will be playing our part in redressing both these issues.
For further press information, please contact Alex Roache, external press and media relations officer, Coventry University, on +44 (0)24 7765 5050 or email alex.roache@coventry.ac.uk.
For information about the scholarship itself, please contact the faculty directly on +44 (0)24 7765 8656.