Red Dwarf star talks innovation at Coventry University business event
Tuesday 11 February 2014
Press contact
---
TV personality and tech enthusiast Robert Llewellyn – famous for playing Kryten in British sci-fi sitcom Red Dwarf – is set to speak about the importance of innovation at a business support event run by Coventry University on Thursday.
The event, which will take place at the Manufacturing Technology Centre at Ansty Park, aims to help SMEs from the West Midlands understand the best ways to patent new ideas for product development and take advantage of intellectual property support programmes.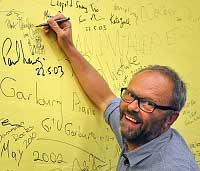 Former Scrapheap Challenge and How Do They Do That? presenter Llewellyn will deliver a keynote speech entitled 'Engineers see problems as opportunities' at the event, which is backed by a consortium of West Midlands universities including Coventry, Keele, Staffordshire and the University of Wolverhampton.
Run as part of the European Regional Development Fund-supported Innovative Product Support Service (IPSS), the event offers a range of free workshops on topics such as 'Introduction to Intellectual Property and the Patent Box' and 'Understanding tax credits within research and development' featuring speakers from both industry and academia.
The above-mentioned universities will also be present at the event to showcase their innovation support programmes, and their advisors will be available throughout the day to assist companies looking to introduce new products or processes.
Places are free to book but will be limited. For more information or to book a place, please visit fromideastoreality.eventbrite.co.uk, contact the IPSS team on 01902 321105 or email mknight@cad.coventry.ac.uk.
IMAGE CREDIT: Simon Hackett CC BY-SA 3.0