Mum and daughter get set to graduate side by side

---
Thursday 17 November 2016
Press contact
---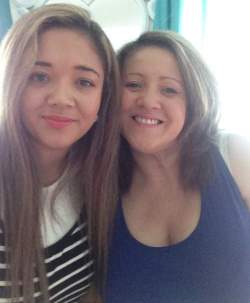 An inseparable mother and daughter will graduate side by side this month after taking on university life with something most would leave behind – each other.
Azara Queen and her mum, Diane have spent three years on the same criminology and psychology course at Coventry University - studying together, living in the same house and even working together in the same part-time job.
The self-proclaimed best friends who will graduate with matching second-class BSc degrees on November 21 show no signs of going their separate ways after having already started the same postgraduate MSc course in psychology at Coventry University.
The pair, who live in Coventry and work in mental health care when not at lectures, said far from wanting to get away from each other, their unusual situation simply means they have been able to stay together doing what they loved.
Azara, aged 26, insists that instead of dampening her university experience and chance to leave home, having her mum by her side simply made the choice between family and going away to study simple.
And Diane, 49, is hoping her own unusual experience new will encourage more mature students to get back into education or even be able to spend time with their families.
Azara Queen said:
We both wanted to go to university and the bonus was that this way, we could do something we loved and do it together.

"We never get sick of each other, mum is my best friend. It is mad but we have the same hobbies and everything. The only thing is that I like horror films and she doesn't.

"We are always together but I still had my own experience the same as all the other freshers, I joined societies and was a cheerleader so we made our own friends.

"Mum did encourage me to live in halls or to go to another university, but I've told her she's not getting rid of me. People are shocked when they find out but they all love it.

"I saw my friends struggle with missing their families, especially in the first year. But I didn't have that because mine has been right here with me.

"It's been incredible, I just don't know how people do It without their mum. The next step is just convincing her study for a PhD with me."
Diane Queen said:
There was no chance of me missing Azara when she went off to university because we got to do it together.

"I don't think it is strange at all, we've both managed to get so much out of it and it gave me the confidence to do something I might not otherwise have done.

"We help each other by revising together and filling in the gaps in each other's notes. And there's no chance Azara can get out of lectures or have an extra hour in bed, because I always know when she has a class or deadline coming up.

"The course was a challenge but really worth it. So many people say to me that they are too old or scared to get back into education after so long, but that's nonsense.

"I recommend it to anyone of any age. It's a lot of hard work but so worth it, and even better that I get to do it with my daughter."
---
For further press information please contact Hannah Smith, press officer, on 02477658352 or email hannah.smith@coventry.ac.uk.