Holocaust survivor's moving testimony
University news / Opinion
---
Thursday 19 February 2015
Press contact
---
A Holocaust survivor shared her story with staff and students at a special lecture, which took place on campus on Wednesday 18 February.

Mala Tribich, who was imprisoned as a child in the notorious Bergen-Belsen concentration camp, spoke about her experience at the event, which was organised in partnership with the Holocaust Educational Trust.

Mala's talk was especially poignant as 2015 marks 70 years since the end of the Holocaust and the liberation of Bergen-Belsen by allied forces. Indeed, the allies' footage and photographs of the atrocities that occurred within the camp thrust the horrors of the Holocaust into the public consciousness and Bergen-Belsen became synonymous with Nazi war crimes in the immediate post-war period and beyond.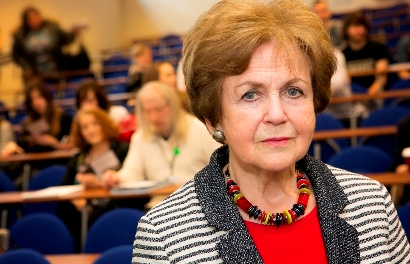 Born in the town of Piotrkow Trybunalski in Poland in 1930, Mala and her family suffered great hardship and persecution when the Nazis invaded her country nine years later.
Forced to live in squalor in the ghettos established in her hometown - the first in Poland enforced by the occupying regime - and with the threat of deportation hanging over them, Mala and her cousin were sent away by her family, hiding heir Jewish identity by posing as Christian children in another household in another town.
Upon Mala's return home, by which time she had been separated from her cousin, there were further round ups in the ghetto in which her mother and eight year old sister were amongst hundreds murdered by the Nazis in the local forest.
When the ghetto was liquidated, Mala became a slave labourer until November 1944, when the remaining Jews were deported. She was separated from her father and brother Ben and together with her cousin Ann was sent to the Ravensbruck concentration camp.
Mala was then transported to Bergen-Belsen where conditions were appalling. At the time of the liberation by the British army, typhus had swept the camp and Mala was one of the many to have contracted the disease.
After she recovered Mala was sent with a large group of children to Sweden where she spent nearly two years. Not expecting any of her family to be alive, Mala was surprised to receive a letter from her brother Ben in England, the only other member of her close family to have survived.
In March 1947, Mala came to England to be reunited with Ben. She learnt English, attended secretarial college and within a year was working in an office. In 1949, she met Maurice, whom she married in 1950. Whilst her children were growing up, Mala studied and gained a degree in Sociology from the University of London. Today Mala has two children and three grandchildren.
A full account of Mala's testimony can be found in the book, The Boys by Sir Martin Gilbert. Further information about the Holocaust Educational Trust is available on their website.