Ground breaks for £30m clean transport lab on university's Tech Park
Friday 10 November 2017
Press contact
---
Work has begun on a clean transport lab on Coventry University's Technology Park, heralding the start of a £30 million collaboration between the university and German-based international engineering service provider FEV.
The new low carbon technology centre is being built next door to the university's recently-launched £7 million National Transport Design Centre (NTDC), creating a cluster of transport-focused research and development facilities on the Technology Park.
Representatives from Aachen-based FEV – including its president and chief executive officer, Professor Stefan Pischinger – visited the site this week, where contractor Willmott Dixon broke ground to kick off construction of the facility.
Activity in the centre will focus on testing and improving performance and emissions on a range of different powertrain concepts, including hybridized, electric, conventional and alternative fuel propulsion systems.
Vice-chancellor Professor John Latham said:
"This new centre represents another boost to the university's and the city's rich portfolio of transport research and development activities.

We're delighted as one of the region's universities to be playing a role in attracting investment from key international players in this field, and to be helping position Coventry at the forefront of advancements in low carbon technology."
FEV already works closely with a number of UK customers. These leading international names in the automotive and aerospace industries are expected to use the facility to develop cleaner transport technologies, with a significant area of work set to be advanced propulsion systems – a key innovation theme identified in the UK government's industrial strategy.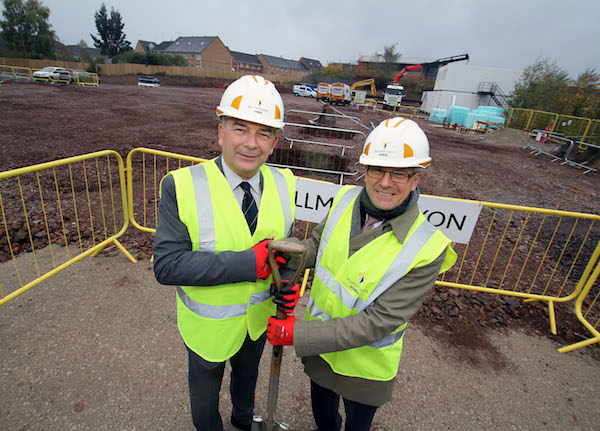 Image: John Latham and Stefan Pischinger at the groundbreaking of the Low Carbon Technology centre.
---
For further press information, please contact Alex Roache, senior media officer, Coventry University, on 02477655050 or email alex.roache@coventry.ac.uk.