DIY, digital sculpting and more as city's "Fab Lab" takes to the streets
Monday 03 April 2017
Press contact
---
Free lessons in DIY, classes from a BAFTA winner on the basics of creating computer games, digital sculpting workshops and a special "repair cafe" for broken toys and furniture are amongst a week-long festival of fun, educational activities happening in Coventry from Monday 10 April.
The events are all part of the "Fab Fest" taking place next week in public spaces and other venues across the city centre, which is being co-ordinated by Fab Lab Coventry - a joint venture between the city council, Coventry University, the University of Warwick and other partners.
The Fab Lab - short for fabrication laboratory – is a community design and innovation space filled with smart things like laser cutters and housing dedicated learning areas, including a computer classroom and a metalwork and carpentry workshop.
The lab in Coventry is part of a global network of over 700 that followed in the footsteps of the very first Fab Lab developed in the world-famous Massachusetts Institute of Technology (M.I.T). Fab Labs are based on the simple idea of making modern tools and techniques readily available for people to create new things
Fab Lab Coventry, which is located in a converted shop in the City Arcade, has been up and running for eight months and offers everything from coding using Raspberry PI computers to lessons in household DIY.
But for next week's Fab Fest, staff from the lab will be taking to the streets with some hi-tech equipment as well as more down-to-earth domestic tools to encourage people to be imaginative and start making things.
They will be joined by creative technologist and digital artist Dan Hett. Dan, whose work developing children's content for the BBC was recognised by the British Academy of Film and Television Arts, will be delivering a beginner's guide to gaming as well as teaching creative computer coding sessions.
And for those looking for something more traditional to do, the lab's resident handyman - retired joiner Tony McCourt - will be offering basic woodworking lessons from his workshop.
There repair café - where people can bring in broken toys and small pieces of furniture to be mended – will also be up and running in the City Arcade and there will also a mobile workshop in the shape of a Fab Bike in Broadgate with a trailer packed full of gadgets from the lab including a 3D printer and a pocket-sized BBC micro:bit codable computer.
Helen Lewis, Fab Lab Coventry Co-ordinator, said:
"We're really looking forward to our Fab Fest next week and giving people a taste of some of the exciting things we offer. The Fab Lab is a brilliant resource in Coventry and we want everyone to know about it so we're taking to the streets to spread the word!

The Fab Fest is intended for people of all ages and whether they're into computer programming or fixing furniture there's something for everyone. It should be a really fun and interactive event – amongst all the other things on offer we're also running a family friendly scavenger hunt during the week - and we've got brilliant, enthusiastic people like Dan and Tony involved as well.

We're hoping the Fab Fest will get the people of Coventry fired up about making new things."
The Fab Fest will run in Coventry from Monday 10 April to Saturday 15 April 2016.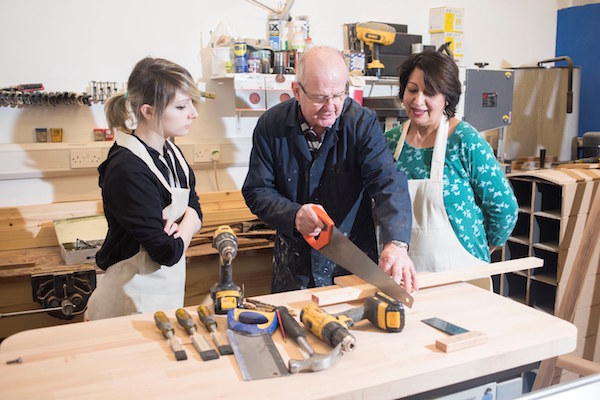 Coventry's Fab Lab in action...
---
Further information about the activities coming up during Fab Fest and other Fab Lab Coventry events is available on the lab's website www.covfablab.org.uk or by emailing fablabcov@gmail.com or phoning +44 (0)24 7622 0296.