Coventry University's new transport design centre reaches major milestone
Thursday 13 April 2017
Press contact
---
Today, Thursday the 13th of April, the National Transport Design Centre (NTDC) has met a major construction milestone as the roof of the £7 million design facility was lowered into place.
Attended by Coventry University's vice-chancellor, Professor John Latham, Kier's operations director, David Sizer and the Coventry & Warwickshire Local Enterprise Partnership's operations director, Paula Deas, the occasion marks a significant point in the centre's construction.
Built by Coventry University as a dedicated transport design research centre, the NTDC has been created to provide a state-of-the-art environment for businesses, researchers and students to create and refine future transport solutions. The centre will assist in increasing the number of highly-skilled professionals working in UK and the UK's already impressive reputation in vehicular design.
The National Transport Design Centre will become a focal point for research-driven postgraduate education in rail, marine, aerospace and automotive disciplines. In addition to providing access to the very latest technology and giving students the freedom to explore their creativity, Coventry University will also be able to provide access to experts from across the various disciplines to feed into the NTDC.
David Wright, director of strategic initiatives at Coventry University, who has been instrumental in the project's execution, said:
Design, and especially transport design, is a field in which the UK has world-leading firms, and yet the sector's contribution to the UK economy is still not as well recognised as it should be. The new National Transport Design Centre has been conceived to be a collaborative, creative environment, from which we will support the design sector with focused research and continue to grow the talent pool for the future, particularly at post-graduate level."
Due to open in May 2017, the centre has received investment from the Coventry and Warwickshire Local Enterprise Partnership as part of the government's Local Growth Deal.
This has allowed the centre to be equipped with a six metre interactive power wall that allows users to explore detailed design and engineering concepts in virtual reality. A clay-milling facility will also be part of the NTDC's design offering allowing physical models of vehicles to be created. There will also be a projection mapping system that can cast digital images on 3D objects, helping the designer to assess how multiple options would work on full scale models.
Research projects associated with the NTDC are already underway with the centre open for business from June 2017. For more information about the NTDC, visit: /business/ntdc/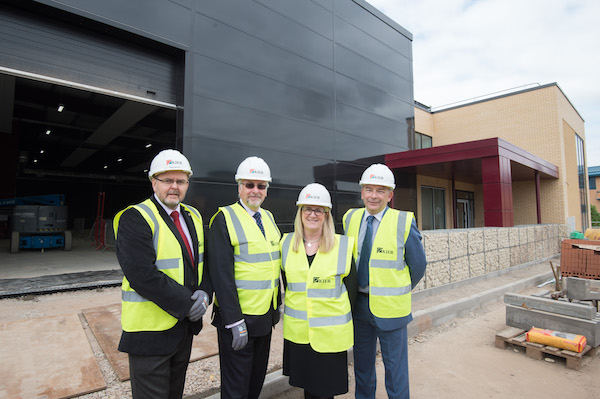 Image: The National Transport Design Centre topping out ceremony.
---
For further media information, please contact St John White or Georgina Cook on 01926 776900 or email ntdc@provapr.co.uk.