Coventry University sports lecturer swaps lecture hall for World Karate Championships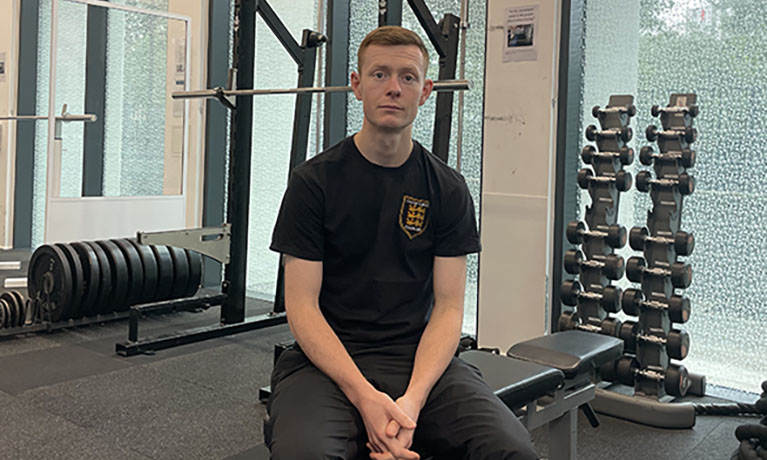 ---
Monday 23 October 2023
Press contact
---
A Coventry University lecturer is gearing up to represent England at the Karate World Championships in Budapest this month.
While working as an Assistant Lecturer in Sports Therapy, outside of work Joby Wilson also coaches karate and runs two sports injury clinics based in Banbury and Northamptonshire to support his competitive martial arts career.
Speaking of how competing in karate fits in alongside his life at the university, Joby said: "I think some of the students know that I compete in karate, some of them don't. We definitely have a lot of scenarios for the trauma module this year from all sorts of concussions and injuries I have suffered! I think I'm becoming a bit of a case study for some of our second years.
I just have to work the competitions around everything else as opposed to trying to take time off work.

Joby began competing when he was 15 and the sport has taken him all over the world to places such as Japan, China and Cyprus. While his training schedule can be pretty manic alongside teaching and running his sports clinics, Joby admits karate has helped him in his other jobs: "It has definitely allowed me to experience a lot more injuries than I probably would have done otherwise. That experience has also benefited my management in certain cases as it's definitely allowed me to empathise with the patients more.

Joby Wilson
The Karate World Championships mark the first time Joby has represented his country at a global level. He has represented England three times before at two European championships and the Commonwealth Games last year. It is also his first selection for an individual sport as a senior.
The world championships will also see Joby compete at a new, lower weight than he has previously fought at. As well as a ramped up training schedule and other competitions in the lead-up to the world championships, Joby has to stay at the correct weight for his category and will face opponents he has never fought before.
There's a couple of people that we've got our eye on. There's an Italian and a Greek athlete who are both at the top in that category so it will be an interesting fight.

Joby Wilson
The 2023 Karate World Championships will be held in Budapest from October 24 to 29.