Coventry University researchers build on the pioneering work of Alan Turing
University news / Research news
---
Wednesday 08 October 2014
Press contact
---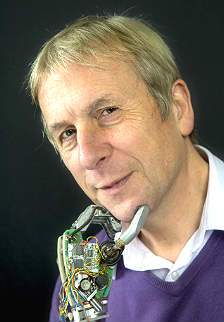 Through its deputy vice-chancellor for research, Professor Kevin Warwick, Coventry University is continuing work in one of code-breaker and mathematician Alan Turing's pioneering experiments – The Turing Test.
The test was devised by Turing, who is considered the father of modern computer science, while he was working at Manchester University. This experiment defines the standard for a machine to be called intelligent, by investigating whether people can tell if they are talking to machines or humans.
This was one of Turing's key contributions to computer science throughout his career, which is celebrated in the new film The Imitation Game. The film follows the life of Turing, his pivotal role in cracking Nazi Germany's Enigma code during the Second World War, and his life and persecution post-war leading to his untimely death. The UK premiere is tonight (Wednesday 8th October) at the London Film Festival.
Shortly before his death, Turing predicted that machines would be able to pass his test. Coventry University's Professor Warwick has been involved in conducting Turing tests for over a decade, and in an event organised by Warwick and Cogent Computing's Dr. Huma Shah in June 2014, the test was passed for the first time by computer programme Eugene Goostman. Eugene achieved 33% incorrect identification by the human judges who were either unsure or classified it as a human during a series of five minute keyboard conversations (the threshold for passing is to convince 30% of judges).
The work that Warwick and Shah are carrying out in this area is more important than ever today, because if a computer can trick a human into believing they are someone else it has implications for various types of cybercrime such as fraud. Cybercrime was identified as a 'Tier 1' threat in the UK's National Security Strategy, and the Turing Test can help to combat this by furthering our understanding of how artificial dialogue influences human behaviour.
Professor Kevin Warwick said:
The Turing Test is one of the most important yet controversial milestones in the field of artificial intelligence, and Coventry University is critically involved with its practical assessment. This will have a dramatic impact on future communication not only where computers are involved but in all aspects of cyber-crime where identity and deception are key elements.