Coventry University research underpins Ben & Jerry's new campaign against division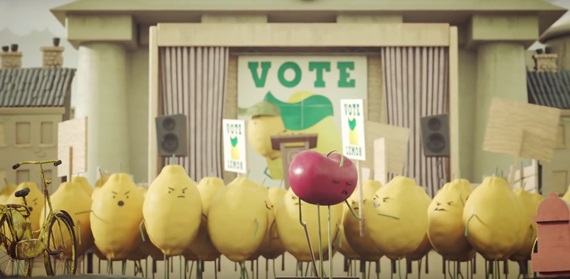 ---
Monday 07 November 2016
Press contact
---
Ice cream makers Ben & Jerry's has launched a new video, which aims to shine a light on some of the challenges faced in creating a more inclusive society, and celebrate greater togetherness in communities.
Like many people, Ben & Jerry's has become concerned by the pockets of tensions emerging within society, which is why they've joined forces with grassroots groups across Europe to launch One Sweet World, a campaign that aims to bring people together in the name of unity and compassion.
The new video, launching on Friday 4th November across the company's social media channels, features animated flavours to highlight, in an accessible way, how hostile narratives drive division and that now is the time to take a stand. It fits with Ben & Jerry's belief that communities, like ice cream, come in all flavours and that all in society should have their voices heard and respected, regardless of nationality, race, religion or wealth.
Ben & Jerry's launched the One Sweet World campaign in partnership with grassroots community groups across Europe who are working to build more inclusive and welcoming communities. The campaign asks people to share positive stories of unity and togetherness, and to sign up to local initiatives aimed at bringing people together*.
The campaign video highlights the impact of hostile narratives in society, beginning with a sour lemon character staging a campaign drive, with lemons holding signs entitled 'Zest is best'. Amongst the crowd, a single, hopeful cherry holds a sign saying 'We taste sweeter together', only to leave the event alone. The cherry walks through the town witnessing the way that the loudest voices in society seek to divide people on the basis of who they are, or where they come from. Things start to get better when a young lemon starts a dialogue with the young cherry. In this scenario, music is depicted as one example of an approach that brings people together and can start the conversation and address perceived differences. The video goes on to show that society is stronger when everyone works together. The video ends with the tagline, 'We don't live in a one flavour world', highlighting the importance of unity and inclusion.
The video features a catchy folk melody by singer and songwriter Ben Cocks, which has been created in collaboration with Adelphoi Music for the campaign and has also been released on iTunes and Spotify.
The video is influenced by some new research from Coventry University's Centre for Trust, Peace, Trust and Social Relations (CTPSR). The research shows that hostile narratives matter. Although the same number of people in society see a more diverse society as a threat, as those that strongly believe it brings economic, social and cultural benefits (roughly a quarter of the population in each group), dominant media and political narratives tend to reflective negative, rather than positive views about migration and diversity in many countries. The research points to a disparity between these dominant media and political narratives on diversity and migration, and people's actual lived experiences.
The video comes as the latest element of the European-wide social inclusion campaign, One Sweet World. Earlier this month, Ben & Jerry's launched its awareness raising flavour of the same name, with proceeds going to support local partners working to build more inclusive and welcoming communities across Europe.
Heaven Crawley, Professor of International Migration at the Centre for Trust, Peace and Social Relations and one of the report's authors said:
Across Europe we have observed some hardening of attitudes towards refugees and social groups perceived to be in some way to be different and threatening. These attitudes, and the negative political and media debates with which they have come to be associated, undermine the inclusion of those who are newly arrived and also threaten relationships within and between long-established communities. The good news is that when you look below the surface we see a more positive picture of people across Europe, and especially young people, mobilising to create a new narrative on migration and diversity that moves beyond fear and hate. It's great to see Ben & Jerry's supporting this work.
Ed Shepherd, Ben & Jerry's Social Mission Manager, said:
Our new One Sweet World video aims to bring to life the issue of the hostile narrative towards others that we see in society. We want to promote a new narrative based on unity and togetherness, and hope our video helps to highlight that it's time to stand up for unity over division. We have no illusions that we will change the world straight away with one video, but hope to add our voice to local movements that seek to unite our communities, regardless of nationality, race, religion or wealth, and join forces with others committed to change.