Coventry University experts to help influence future of Indian transport
Business news / Alumni news
---
Monday 23 April 2018
Press contact
---
Coventry University academics will serve on a panel which aims to help transform the future of transport and mobility in India.
It comes after a delegation from the Institution of Engineering and Technology (IET) India's Future of Transport and Mobility panel visited the university for a fact-finding mission.
Professor John Jostins, who set up hydrogen-fuelled car spinout company Microcab, has now been invited to join the panel as an expert in electromobility.
Professor Andrew Parkes, academic director of the university's Institute for Future Transport and Cities (FTC), will join the panel's discussions on the future for cities.
The IET India Future of Mobility and Transport Panel was recently set up to advise and influence the country's government as it looks to meet ambitious targets regarding the use of electric vehicles. The panel aims to be a credible and neutral platform to facilitate discussions around the impact of mobility in rural and urban regions of India.
Its role will cover transportation within cities, including tackling traffic decongestion and investigating the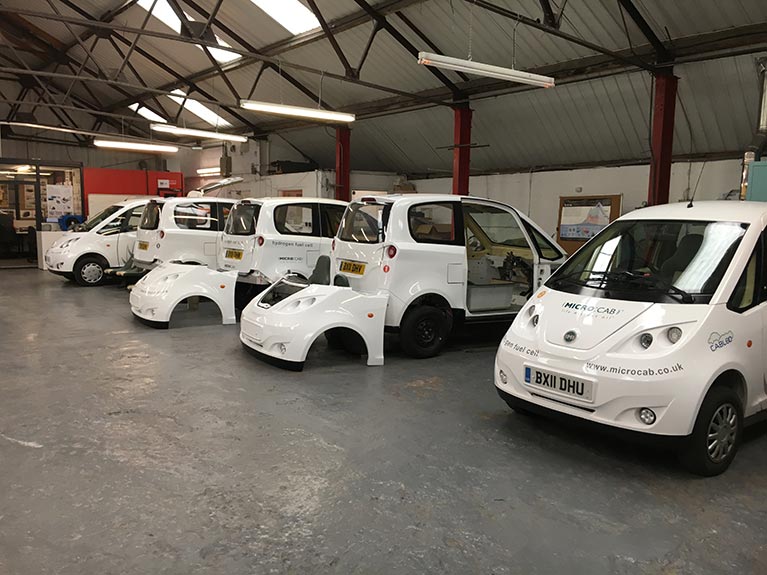 Microcab vehicles at the company's headquarters.
feasibility of a single payment system for different types of transport, similar to the Oyster card in London.
It will also look at how transport can be improved in rural areas and how this can benefit income generation and living standards, as well as investigate issues and opportunities for transporting freight, via road, rail, sea and air.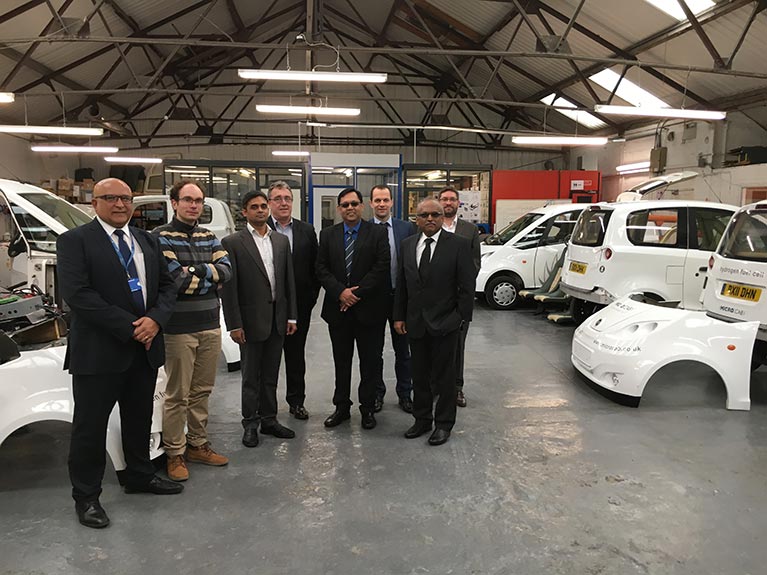 The IET delegation visit Microcab's offices
Delegates met academics from FTC, Coventry City Council and local businesses during their visit to the university. They listened to presentations outlining a number of key research projects the institute is involved in and visited the National Transport Design Centre and Microcab's headquarters.
The university's panel members were announced following a further meeting and it is hoped they will be able to advise on the Indian government's transport policy development, particularly relating to electric mobility.
The university may also become involved in providing expertise in virtual and augmented reality and analysing data collected as part of the panel's work.
Professor Andrew Parkes, academic director of Coventry University's Institute for Future Transport and Cities
This is an excellent opportunity for us to help address some of the biggest challenges ahead for India relating to transport and mobility.

Our strengths our extremely well aligned with panel's vision and mission. There are so many areas where we can make an impact on their work, from the future design of vehicles and infrastructure provision to supporting low carbon vehicles and data management.

The Government of India has set ambitious targets for electric mobility; this influential panel will be well placed to help make this happen.
PhD student Stephen Powley, who organised the visit as part of his volunteering role on the IET's Automotive Road Transport Systems Executive Team.
It was a great pleasure to welcome guests representing IET India's new Future of Transport and Mobility Panel to Coventry University.

Being invited to join the panel gives the university a fantastic opportunity to use our knowledge and expertise to help solve some of the worst air pollution problems on the planet.

The panel is also focused on improving lives by using digital technologies to deliver mobility for India's 70% rural population.
Shekhar Sanyal, IET India country head and director
We look forward to working closely with the university's relevant departments and start-ups on finding solutions around mobility that will create impact in the areas that the panel focuses on.

We believe that these conversations are well-timed as the Government of India has announced ambitious schemes that have the potential to transform the country's mobility scenario.

We are very excited with the prospects and the future this could create.