Coventry University excels in UK-wide research assessment
Wednesday 17 December 2014
Press contact
---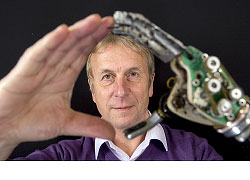 A government initiative for assessing the quality of research across all UK higher education institutions has rated significant areas of Coventry University's research as 'world leading' and 'internationally excellent'.
The Research Excellence Framework (REF) is overseen by the Higher Education Funding Council for England (HEFCE), and is used by the government to decide how public funding of research is shared amongst universities.
An expert panel, appointed by HEFCE, rated 94% of Coventry University's research submitted for the assessment in the field of Allied Health Professions, Dentistry, Nursing and Pharmacy as either 4-star (world leading) or 3-star (internationally excellent).
As a result, the University ranks joint 5th in the UK for the quantity of its research in the allied health professions category receiving the top ratings of four or three stars.
Research submitted in the fields of Mathematical Sciences and Art and Design also excelled, with 81% and 71% respectively being rated as either four or three star quality.
Over half of research submitted by Coventry for General Engineering (60%), Psychology, Psychiatry and Neuroscience (57%), Earth Systems and Environmental Sciences (52%) and Business and Management Studies (52%) was considered to be world leading or internationally excellent.
Examples of research in the allied health professions category include work carried out by the University to develop new approaches to sex and sexual health education, as well as studies linked to recent research around the toxicology of drugs.
In the art and design and engineering categories, examples of research contributing to the overall rating include the development of the Microcab hydrogen fuel cell vehicles – which are designed and built in Coventry – and a project which worked to improve helicopter crash safety.
The ratings awarded by the HEFCE panel take into account a range of measures including the impact the research has had, its originality and its sustainability.
Professor Kevin Warwick, deputy vice-chancellor for research at Coventry University, said:
Today's results from the REF reflect the significant strides that Coventry University is making in its ambition to dramatically enhance its reputation for research. All nine of the categories we submitted research in featured work which achieved the best possible ratings, which is a huge improvement over our results from the last assessment in 2008.

We've taken a fresh approach to our research strategy which has seen considerable investment of £150 million in new facilities, new staff and new and exciting PhD opportunities for young researchers. The result is that we're already seeing Coventry's research making a real impact in the world around us.

The next research assessment in 2020 can't come soon enough for Coventry University. We're looking forward to our research strengths continuing to improve so that we can stir things up a bit amongst the established order.