Coventry University appoints director of Centre for Agroecology and Food Security

---
Wednesday 06 March 2013
Press contact
---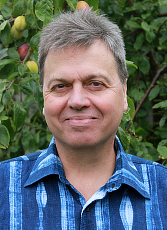 Coventry University has appointed Dr Michel Pimbert as Director of the Centre for Agroecology and Food Security (CAFS).
The Centre for Agroecology and Food Security is a joint initiative of two research and development institutes with global renown in their own right: Coventry University's Sustainable Agricultural and Food Applied Research Group, and Garden Organic's International Development and Commercial Research Programmes. The Centre for Agroecology and Food Security aims to respond to the overarching challenge: How to create resilient food systems worldwide?
Dr Pimbert joins Coventry University from the Rachel Carson Centre for Environment and Society at the University of Munich, where he was a Fellow. Dr Pimbert does research on food sovereignty and agroecology, the political ecology of natural resource and biodiversity management, as well as citizenship and deliberative democracy.
An agroecologist by training, he previously worked at the UK based International Institute for Environment and Development (IIED), the International Crops Research Institute for the Semi Arid Tropics (ICRISAT) in India, the Université François-Rabelais in France, and the World Wide Fund for Nature in Switzerland. He has lived and worked in South Asia and Europe, West Africa, Latin America and South East Asia. Dr Pimbert is currently writing two books that draw on case studies that he has developed with local partners over the last 13 years. The first is a multimedia e-book 'Towards Food Sovereignty: Reclaiming autonomous food systems' and 'Transforming Knowledge for Diversity.'
Speaking of his appointment Dr Pimbert said:
I am absolutely delighted to be joining the Centre for Agroecology and Food Security and its highly respected team of researchers and professionals. CAFS is unique in its attempts to build on the combined experience of university applied research departments and a charity that promotes organic horticulture, farming and food. Each element of research we are undertaking contributes to addressing the issue of: "How can we create fair and 'resilient' food systems worldwide?

I am very excited by this forward looking public-voluntary sector partnership and am keen to work with the CAFS to advance a bold agenda for research and teaching on agroecology and food security in the UK and internationally.
CAFS brings together social and natural scientists whose collective research expertise in the fields of agriculture and food spans several decades. Members of the team have a proven track record of securing research funding to examine themes relating to the sustainability of farming and food systems in both the developing and developed world.
They have also published numerous peer-reviewed articles, books and book chapters on a diverse range of topics. The Centre based at Coventry University will help tackle the challenge of how to build resilient food systems worldwide.
Note to editors
The aim of the Centre for Agroecology and Food Security (CAFS) is to conduct critical, rigorous and relevant research which will contribute to the development of agricultural and food production practices, which are economically sound, socially just and promote long-term protection of natural resources.
In 2009, CAFS became a member of the International Federation of Organic Agriculture Movements (IFOAM). IFOAM currently unites 750 organisations in 116 countries and is the worldwide umbrella organisation for the organic movement.