Coventry students in the running for title of UK's most skilled software user
Friday 13 March 2015
Press contact
---
Three students from Coventry University have made it to the final of a national competition to find the country's best at using a well known creative software suite.

The students will be competing in the Adobe Certified Associate (ACA) UK championship final, which takes place at the computer software firm's UK HQ in Maidenhead on 10 June. Adobe produces a range of widely used professional design tools, including Photoshop and Illustrator, and Coventry University is now an approved training centre for the ACA accreditation scheme.

The university introduced dedicated Adobe modules in the last couple of years to help its students steal a competitive edge in the job market by gaining certification in industry standard software. Since launching, the classes have proved very popular with hundreds of students signing up to take advantage of the accreditation scheme, which the university works in partnership with Prodigy Learning and Adobe Education UK to deliver.

The university has just received a second award from Prodigy as an 'Outstanding Centre of Excellence' and it was here that the finalists honed their skills. Eight undergraduates in total from Coventry University - studying topics as diverse as civil engineering and photography – were amongst the highest scorers in Adobe's nationwide challenge with the three top performers going on to compete at the UK final in June.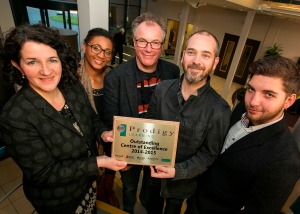 The winner of the national final will receive an all expenses paid trip to Dallas, Texas to take part in the Adobe World Championships in August this year. If one of the three from Coventry emerges triumphant from the UK competition it will be the second time in two years that a student from the university has made it all the way to the world final.

Joy Monkhouse, a lecturer in Graphic Design at Coventry University, helped establish the university as an authorised Adobe training centre. She said:


Our students have done brilliantly well to make it to the UK finals. It's a competition that draws a tough field of entrants from across the country so our representatives should be proud that they've made it this far.

Hopefully one of them will go on to win the final and earn the right to compete in the world championships later this year but no matter what happens I'm sure they will all benefit from the experience. They have learnt valuable skills that will enhance their employability.

For press enquiries, please contact Mark Farnan, communications assistant, Coventry University, on +44 (0)24 7765 8245 or email mark.farnan@coventry.ac.uk.