Coventry students' bags of support raise thousands for charity
University news / Business news
---
Wednesday 04 November 2015
Press contact
---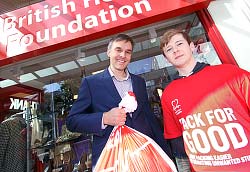 Coventry University students have teamed up with the British Heart Foundation (BHF) to donate their unwanted items at the end of term – in an initiative that the charity estimates could raise over £30k.

BHF shops in the city collaborated with the University to encourage students to have a clear out and donate the clothes, shoes, books, DVDs, bags and small electricals they no longer needed at the end of the academic year, enabling the charity to recycle goods that might otherwise be wasted.

The profits from the 'Pack for Good' scheme – which this year saw 2,265 bags of items donated from the students – are going straight into the fight against heart disease and will help fund the BHF's life-saving research.

Collection bins around campus and separate house collections were used extensively by students over the summer period and each donated bag could raise as much as £14 for the BHF.
In recent years, universities have generated over £1.5m from items sold in local British Heart Foundation shops.

Ross Frazer, a geography student at Coventry who took part in the initiative, said:
It's been fantastic to be involved with the scheme and to give something back to the local community. Students often have items at the end of term they don't want to take away with them, and this initiative means we can donate these in an environmentally friendly way while also helping the British Heart Foundation.

Selina Fletcher, sustainability manager at Coventry University, said:
Working with British Heart Foundation shops, we've been able to provide a really convenient service for students to donate the items they no longer need to this great cause rather than throw them out. We are delighted that this collaboration has proved to be such a success, not only in supporting the charity to raise vital funds but also in helping to keep local neighbourhoods tidy.

Amanda Purkiss, BHF regional stock generator, said:
We've been delighted with the response from Coventry University students and their overwhelming support. Each BHF shop needs to receive 400 bags of unwanted items a week and thanks to generous donations from the students and staff of Coventry University we have been able to help our shops in Coventry.

Coronary heart disease is the UK's single biggest killer, shattering the lives of too many children, parents and grandparents – you can still join the fight for every heartbeat by having a clear out and donating your unwanted items to your local BHF shop.
---
For further information, please contact Mark Farnan, press officer, Coventry University on +44 (0)24 7765 8245 or via email mark.farnan@coventry.ac.uk.