Coventry health professor in swap with top NHS minister
Monday 23 November 2015
Press contact
---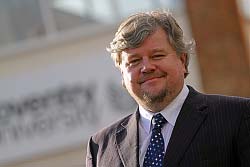 A health professor at Coventry University will be swapping the lab for the Lords this week as part of a Royal Society initiative to pair up the UK's leading scientists and policymakers to give them a taste of each other's worlds.
Professor Darrin Baines – an expert in the economics of the NHS from the University's Centre for Technology Enabled Health Research – will spend a number of days in Westminster alongside health minister Lord Prior, the minister for NHS productivity, and his civil servants.
As part of the government-backed scheme, Professor Baines will shadow Lord Prior and learn about his ministerial responsibilities – which include NHS finances, operations and performance – and his work in both the first and second chambers of parliament.
The unique initiative will provide Professor Baines with a behind-the-scenes insight into how policy is formed and how his research can be used to make evidence-based decisions, and Lord Prior himself will have an opportunity to use the professor's expertise to investigate the science behind decisions.
Professor Baines' visit will begin with a reception in parliament where Jo Johnson MP, minister for science and universities, will speak about the value of UK research and the important role of scientific advice in parliament.
The visit will be reciprocated early next year with a ministerial visit to Coventry University by Lord Prior himself, during which he will see the work carried out by the centre, the Faculty of Health and Life Sciences and other areas.
Professor Baines said:
This is a great initiative which will give both of us a flavour of each other's roles, and I'm confident it will strengthen links between academia and healthcare policy-making and will help position Coventry at the forefront of that relationship.

I'm very excited about this week, as one of my main research interests is around healthcare efficiency and how academia can influence public policy, particularly in relation to the NHS. Lord Prior's responsibility for NHS productivity makes him one of the UK's key influencers in this area, so to be able to share in some of his day to day experiences and then share our work with him is a wonderful opportunity for Coventry University.
Professor Jane Coad, associate dean for research in the University's Faculty of Health and Life Sciences, said:
It's a significant testament to the calibre and impact of Coventry University's health research and expertise that we've been invited to take part in the Royal Society's pairing scheme. Darrin will be able to add to his considerable health economics knowledge and will be able to share valuable learning with Lord Prior not only this week but in the future. We're already looking forward to welcoming Lord Prior to Coventry early next year.
Dr Julie Maxton, executive director of the Royal Society, said:
Scientists and policy makers have a responsibility to engage with each other to get the best possible scientific advice into public policy making. The Royal Society's pairing scheme, now in its 15th year, provides an opportunity for MPs and scientists to build long term relationships to make the best evidence and scientific advice increasingly accessible. The shaping of public policy can only improve over time as these relationships continue to grow.
---
For further information, please contact Alex Roache, external press and media relations officer, Coventry University, on +44 (0)24 7765 5050 or email alex.roache@coventry.ac.uk.