Children to take part in Coventry University research projects during week of psychology activities
Thursday 27 July 2017
Press contact
---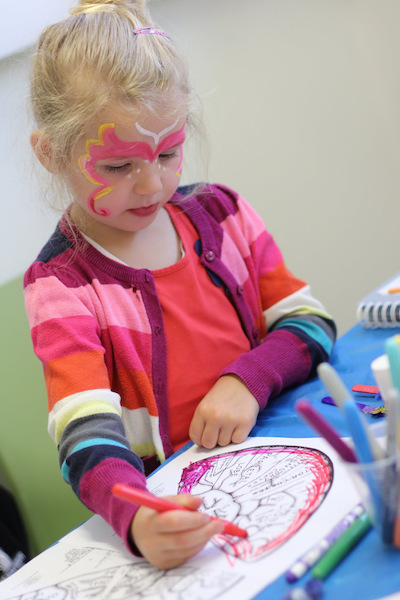 Children will contribute to research projects – including investigations into emotions, anxiety, literacyand maths – as part of a week of activities at Coventry University.
Youngsters – aged between four and 12 – and their families can take part in the Coventry Young Researchers sessions which take place between July 31 and August 4.
The events aim to teach children about psychology in a fun and engaging way with a range of activities and demonstrations.
These include dressing up as animals to learn about different species' intelligence levels and investigating reliability by discovering how many chocolate chips are in packets of cookies.
But it also gives university academics the chance to collect data for eight current research projects.
Among the projects is a study looking at anxiety. The youngsters will give spit samples before and after they witness a remote-controlled spider pop out of a box. The project aims to find out how the level of the hormone cortisol in their spit is affected by anxiety.
Another exercise will see the participants contribute to research on how children perceive emotions. They will look at images of people displaying different emotions and say how they think the people pictured are feeling. They will also have their own expressions recorded as they watch footage of British athletes winning medals at the Olympics.
One of the literacy-themed projects will ask children to differentiate between the real and fake names of authors and books on a list. It aims to find out if children recognise the writers and titles because they have read the books or because they have heard of them from film or television.
This will be the third year running the Young Researchers event – held at the university's Lanchester Library - has taken place.
Parents attend the three-hour sessions with their children and can also take part in some of the activities themselves. They have to sign consent forms for the research data collection.
Organiser Emma Vardy, a researcher with the university's Centre for Psychology, Behaviour and Achievement, said:
"During the summer holidays it's difficult for us to collect data for our research as we normally go out to schools and these are closed. By encouraging children to come into the university, they can find out a bit more about what we do while they are taking part in the research.

It's a really great way of engaging with children and their families. They always have an amazing time and it's so nice to see them getting involved with science and psychology.

The data we collect will be crucial in a variety of research projects on themes including literacy, maths and children's emotions."
Images: Children taking part in previous Young Researchers sessions.