Business School celebrates 50 years of teaching with milestone events
University news / Business news
---
Tuesday 19 December 2017
Press contact
---
Coventry University Business School is calling on graduates to share memories and reach out to students during a year of celebrations to mark 50 years of teaching in the city.
The Faculty of Business and Law is this year marking half a century since the launch of its first dedicated business degrees through a year-long campaign to bring former and current students together.
Celebrations will welcome alumni, employees, business partners and the community for events and activities including a historical timeline project, gala dinner, guest lectures and a dedicated community day.
Staff members are also calling on former students from as far back as the first business lectures to share photographs and memories of their time in Coventry, and to return to the city to meet students and host guest lectures.
The first Business Studies degree was taught to a small class at what was then the Lanchester College of Technology in 1967 under the head Dr W F Frank.
It went on to become Coventry Business School in 1990, and is now part of the UK's third biggest university offering teaching to more than 7,000 students from more than 100 countries each year.
As well as growing in numbers, the school now boasts Europe's largest academic trading floor and a state-of-the-art DigiComm Lab to help thousands of graduates be ready for a global world of work.
It will celebrate its milestone in the year which Coventry was announced to be City of Culture 2021, and celebrations hope to draw on the growth and history of the University, and bring together the thousands of alumni working both in Coventry and internationally.
Professor Heather McLaughlin, Academic Dean for the Faculty of Business and Law said:
"We've come a long way since the 1960s and we want to bring all of this history and heritage together for all of our current students and alumni. What better time to be planning such a major educational milestone than as we were announced as the next City of Culture.

A lot has changed in the past fifty years. Coventry campus has been transformed and the Business School is a far cry from the first class which gathered for lectures at the College of Technology. Since then we have produced some of the most renowned business leaders and led top class research and innovation.

We've also welcomed thousands of students who have gone on to be global leaders and innovators in business, and who are a testament to the benefits of higher education and to studying in Coventry.

Our success is a reflection of the support and commitment of all of our students and we want to welcome them all to be a part of the celebrations, either by attending events or sharing their stories and photographs to help showcase the wonderful history of business studies here in Coventry."
Events will also coincide with wider celebrations in 2018 to mark 175 years of teaching at Coventry University which traces its origins back to the founding of Coventry School of Design in 1843.
Business School graduates are now invited to share memories of their time in the city – anything from remembering an inspirational lecturer, meeting their partner in lecture halls, or how the course helped them on the path to starting a new business.
Former students who now run businesses are also asked to consider offering work placement or volunteer opportunities to current students, or by presenting guest lectures or giving advice and support.
A gala dinner and alumni day will also be held on 3 February 2018 for all former students and staff members to attend, and all are encouraged to register with the alumni network over the next 12 months.
To share stories or find out more, contact the faculty events team on comms.fbl@coventry.ac.uk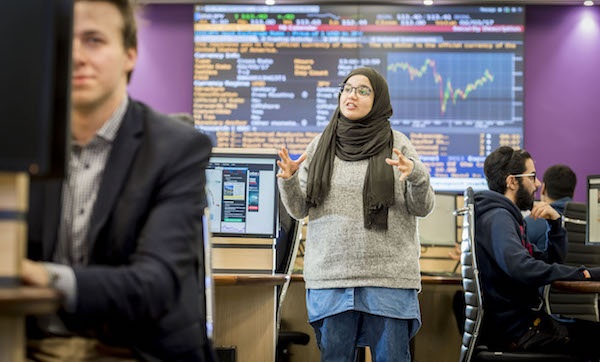 Image: Trading floor, Faculty fo Business and Law.
---
For further press information, please contact Hannah Smith, press officer at Coventry University, on +44 (0)24 7765 8352 or at hannah.smith@coventry.ac.uk.