Amphibious boost for University's cutting-edge building
University news / Student news
---
Wednesday 01 April 2015
Press contact
---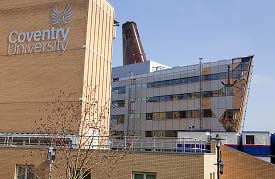 Students at Coventry University will see some extremely exciting amphibious additions being made to the Engineering and Computing Building today as part of a new project on the Maritime Security MA.
Having been awarded the 'Modern University of the Year' accolade two years in a row, Coventry University has continued to strive for both educational and technological triumphs in all possible areas, and the campus design is no different.
With this drive to continuously improve the facilities and the aesthetic appeal of the campus, Coventry University announces today a new set of additions to the Engineering and Computing Building (situated just behind the Lanchester Library).
From today, the building - which already boasts some of the most innovative educational learning tools and facilities in higher education - will feature external amphibious features such as a steerable fin, deployable anchor and a robust stern made from a revolutionary graphene-based polycarbonate material developed by a recent Coventry engineering graduate.
The project has been an extremely secretive affair, with a select number of engineering professors, senior management and master's students being involved with the work. The concept suggests a step in the right direction for tech-based building designs for the future, something Coventry University hopes to continue to pioneer.
In conjunction with the development project Coventry University has been working closely with Coventry City Council to arrange the redeveloped educational vessel's maiden voyage. The University's management team spoke of the excitement surrounding the occasion early today in a press conference with local and national media.
A University spokesperson said:
We're proud to announce that the newly modified Engineering and Computing Building will be floated down the River Sherbourne later this afternoon. The journey will mark a momentous occasion for both architecture and ship building, combining the two to create an unprecedented cross-disciplinary initiative.

The journey will serve as a basis for future projects but also as a research tool; with data and footage from the journey being used for teaching and research purposes. The design and finished product pays homage to the industrial history of the city of Coventry and we're extremely proud of the achievements of everyone working on the team.
For further information, please contact the University's press office.