University's innovative Shakespeare-portal nominated for education award
Thursday 06 September 2018
Press contact
---
Coventry University's life-sized digital portal which allows drama students thousands of miles apart to rehearse together as if sharing a stage, is in the running for a prestigious education award.
The Telepresence in Theatre project has been shortlisted in the Excellence and Innovation in the Arts category of this year's Times Higher Education (THE) Awards 2018.
The virtual rehearsal portal uses of a combination of stage and video-conferencing technology, directional sound, and life-sized projections to allow theatre students in different countries to interact as if they were in the same room.
Developed in 2016 by lecturers at Coventry in partnership with the University of Tampere in Finland, what began as a unique immersive space to explore teaching of Shakespeare's plays has allowed for international teaching and learning without the need for global travel.
The portal has seen students perform an act of King Lear across the North Sea, and supported Coventry's City of Culture bid by allowing academics, business leaders and cultural officers in Finland and the UK to dine together as if sharing a single space.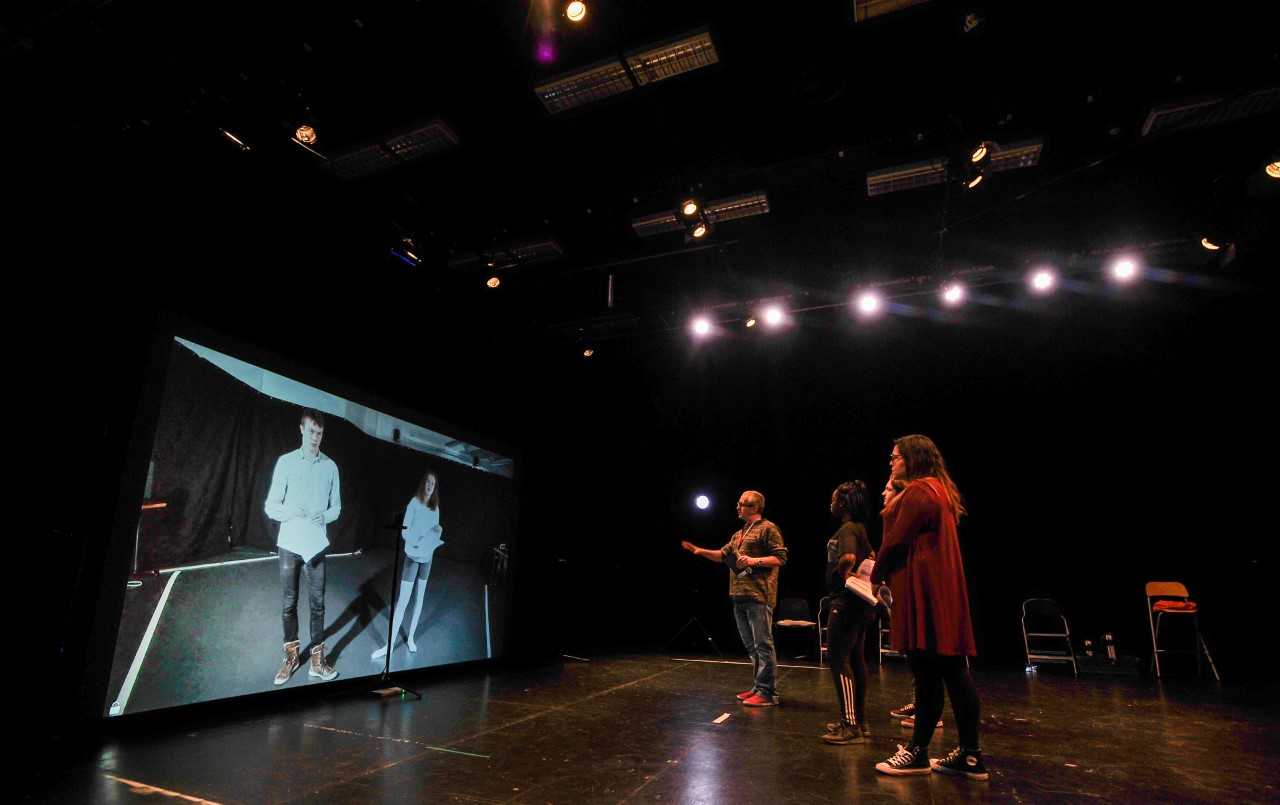 The project this year featured at the GREAT Festival of innovation in Hong Kong as part of a showcase of UK education, and was part of a groundbreaking performance at the New World Symphony Centre in Miami using a mix of actors in the city and musicians in Tampere.
In 2016 it was crowned one of the best new teaching ideas with a Reimagine Education Award for innovation in the arts, and the team is now working with institutions and universities across Europe and America to set up future collaborations.
Coordinator of the project at Coventry University, said:
This began as an experiment between ourselves and theatre experts in Finland. We ended up creating this immersive space, enabling students in both countries to work together as if they were standing in the same room. It really is like walking into a room but the other side happens to be a thousand miles away.

It's very exciting to realise we had discovered something unique in theatre. This is a new way to rehearse and teach, and to have it recognised and see the interest from other universities and artists across the globe is thrilling.

The project has been nominated along with five other programmes from universities across the country in the Excellence and Innovation in the Arts category at the THE Awards and winners will be announced at a ceremony on Thursday 29 November.

Tom Gorman
---
For further press information please contact Hannah Smith, press officer, on 02477658352 or email hannah.smith@coventry.ac.uk.