Coventry University's honorary doctorates include a princess and Coventry sporting legend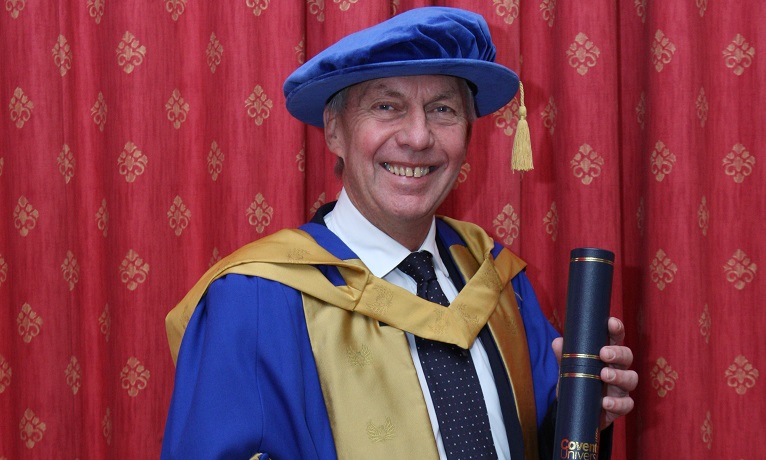 ---
Wednesday 27 November 2019
Press contact
---
A sporting legend from Coventry and a princess are among the nine people awarded honorary doctorates by Coventry University.
Former 5,000 metre world record holder David Moorcroft OBE and HRH Princess Dana Firas of Jordan joined thousands of Coventry University students in graduation ceremonies at Coventry Cathedral throughout last week.
Other honorary doctorates include Ruth May, the Chief Nursing Officer for England and Carol Burke CBE, managing director of Unipart Manufacturing Group, who was instrumental in establishing the Institute of Advanced Manufacturing and Engineering on the Unipart site in Coventry – a unique joint venture with Coventry University to create the first "faculty on the factory floor".
Coventry University is one of the great success stories of our city. It has a huge impact on the lives of people here and across the globe and it is a great honour to receive this award. I look forward to supporting the university in whatever way I can in the future.
While we are celebrating and congratulating all of the students who are graduating this week we hope they take inspiration from our honorary doctorates. These are exceptional individuals who have given so much back to not just their chosen disciplines but society as a whole and we are glad to be honouring them at our graduation ceremonies.
The list of honorary doctorates is as follows:
Ruth May – Honorary Doctor of Science for her contribution as a national leader of nursing
David Moorcroft OBE – Honorary Doctor of Science for his contribution to British sport, the local community and Coventry University
HRH Princess Dana Firas – Honorary Doctor of Arts for her contribution to sustainable development, responsible tourism and cross-cultural peace building
Steve Jackson-Winter – Honorary Doctor of Arts for his contribution to the field of theatre, artistic development and encouraging access to the arts for those from disadvantaged backgrounds
Peter Blomqvist – Honorary Doctor of Business Administration for his contribution to graduate development
Elizabeth Isaacs QC – Honorary Doctor of Laws for her contribution to family law and equality law, including diversity in the legal profession
Jim Dillon – Honorary Doctor of Education for his contribution to the economic regeneration of Scarborough through educational, cultural and sporting developments
Carol Burke CBE – Honorary Doctor of Technology for her contribution to manufacturing and business
KNS Acharya – Honorary Doctor of Technology for his contribution to developing collaborations between the fields of industry and academia