"Inspirational" student awarded for volunteer police role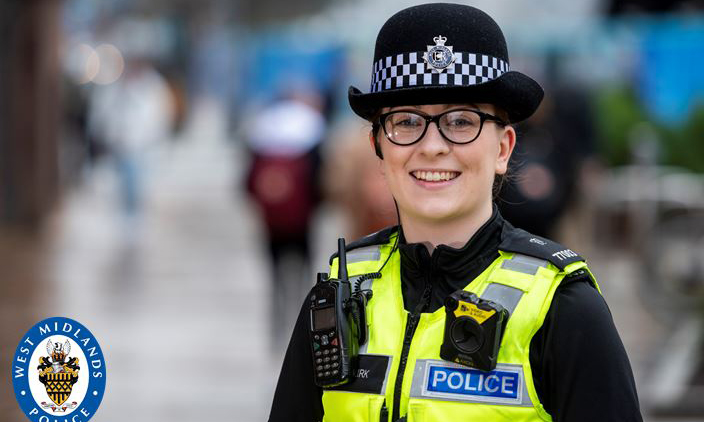 ---
Tuesday 03 December 2019
Press contact
---
An inspirational Coventry University student has been commended for her passion for policing in the city – after volunteering around 1,500 hours as a Special Constable.
Criminology and law undergraduate Emily Kirk joined Coventry Police in November last year under the innovative Blue Line scheme – a project that offers students a chance to take a gap year working as a Special on a neighbourhood police unit.
The 22-year-old joined the city centre St Michaels Neighbourhood Team for eight months – dealing with around 300 incidents from disorders to missing children – and has now re-joined as a regular Special Constable having started back full-time at university.
Her supervisor, Police Sergeant Kulwant Eaves, described her as an "inspiration".
Emily was a model police officer: professional, compassionate and hard working. She dedicated her time to policing for no financial reward… she is an inspiration to other students.

Kulwant Eaves, Police Sergeant
Emily, originally from Cheshire, was commended at the Coventry Police Awards ceremony at St Mary's Guild Hall on 2 December.
I was pretty sure a policing career was right for me – that's why I'm studying criminology and law – but I wanted to experience the job first hand. It's a unique role and I've really been immersed in the world of policing, getting involved in a cross section of police incidents and helping the public. It does have its highs and lows: one evening I remember helping a heavily pregnant lady and her children by giving them a lift home when they became trapped in a car park. But I also attended a shocking incident when a man took his own life. Fundamentally though it's about helping the public and keeping people safe – that's what I've witnessed – and I know for certain it's the career for me. I'd certainly encourage other students to consider a career in policing.

Emily Kirk, criminology and law undergraduate 
Blue Line was a UK-first initiative launched by Coventry Police back in 2015.
This is a great opportunity for students to develop their law, crime prevention and problem-solving experience within the community. Blue Line is aimed at students with an interest in policing but even if that's a path they don't go down the scheme still provides invaluable work experience that prospective employers will appreciate.

Police Sergeant Kulwant Eaves
Regular Special Constables are required to commit a minimum of 16 hours a month.