Innovative Coventry partnership wins highest national honour in UK higher education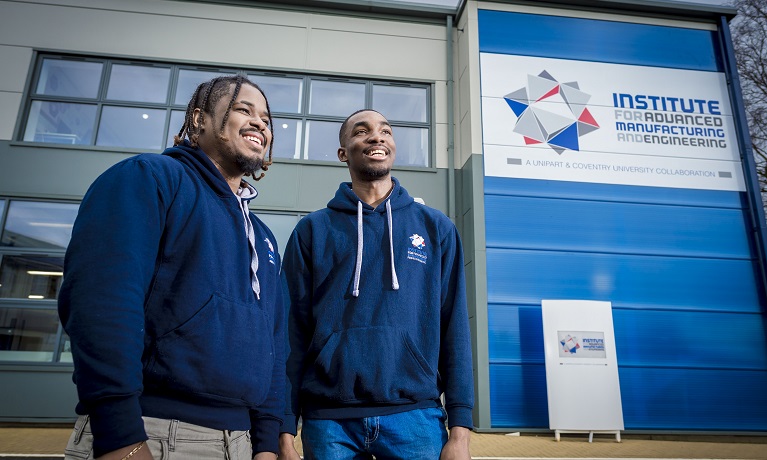 ---
Friday 22 November 2019
Press contact
---
Coventry University's Institute for Advanced Manufacturing and Engineering (AME) has been awarded a prestigious Queen's Anniversary Prize.

Celebrating excellence, innovation and public benefit in work carried out by UK colleges and universities, the Queen's Anniversary Prizes are the highest national Honour awarded in UK further and higher education and are granted by Her Majesty The Queen every two years.

AME is a unique partnership between Coventry University and Unipart Manufacturing Group, it is located on the leading international manufacturer's site in Coventry. Known as the 'faculty on the factory floor', it allows students to engage directly with the engineering and manufacturing industry to the benefit of themselves and the industry as a whole.
AME develops skilled graduate engineers to address the growing skills shortage in the engineering and manufacturing sector. There is a need for an additional 1.8 million engineers by 2025 and 67% of UK manufacturers say they are worried about the future of skilled staff for their business.
In addition to this, there is a team of technology specialists and professors who are working together to develop new powertrain and clean energy solutions for the transport sector. Projects have included light-weight exhaust systems, fuel tanks for hybrid vehicles and battery energy storage systems working with a number of leading automotive companies.
It is an honour to have received a Queen's Anniversary Prize for the AME. Collaborative partnerships between universities and businesses are critical in promoting innovation and supporting the industry. The prize is testimony to our strong focus on employability and underpins our long-term commitment to producing industry-ready graduates who have the necessary skills, knowledge and expertise to meet the demands of the economy.
Unipart Manufacturing Group and Coventry University share the same passions, including increasing the number and calibre of engineers and associated skills in the Coventry and Warwickshire area, as well as researching and supporting high value manufacturing and engineering. We are delighted to have been recognised with a Queen's Anniversary Prize.
For more information about AME please visit www.coventry.ac.uk/ame