Extra financial support for nursing and midwifery students in 2020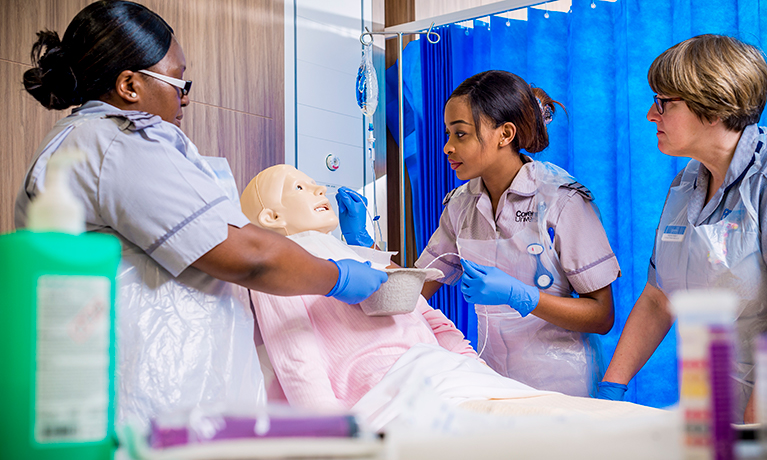 ---
Monday 23 December 2019
Press contact
---
Degree-level nursing and midwifery students will be entitled to extra financial support of at least £5,000 a year from September 2020.
The Government has announced the support to help with living costs for both new and continuing students. It will also be available to students on a number of allied health courses, although those specific details have yet to be announced.
There will also be additional support available for specialist disciplines, such as mental health, where recruitment can be more difficult.
The announcement comes two years after student nurse bursaries were scrapped.
The news has been welcomed by Coventry University's Professor Lisa Bayliss-Pratt, Acting Pro-Vice-Chancellor for the Faculty of Health and Life Sciences (HLS), who is on a six-month secondment from Health Education England, where she was Chief Nurse.
This is very welcome news as it eases the pressure on people who want a rewarding and meaningful career in the NHS. Universities like Coventry already play a key role in ensuring the NHS has the skilled and dedicated workforce it needs. This financial support for students will help us to recruit to the key areas where the NHS is experiencing or expecting shortfalls.

Professor Lisa Bayliss-Pratt, Acting Pro-Vice-Chancellor for the Faculty of Health and Life Sciences
There are currently 2,900 undergraduates and 500 post-graduates (full and part time) on nursing or allied health courses at HLS with a further 500 students taking health-related continuing professional development courses.
Currently, around 1,000 nurses and allied health professionals graduate from Coventry University and this number is increasing.
The focus is on experiential learning and using augmented reality and simulation in teaching and learning to embed knowledge and prepare students for the workplace.
HLS boasts some of the most advanced teaching facilities in the UK - the award-winning Alison Gingell Building has a simulated operating theatre, ambulance, wards and houses with assisted living technology.
Elsewhere in the group, Coventry University London has recently announced the creation of a nursing associate award in partnership with Guy's and St Thomas', one of the country's largest and most prestigious NHS Trusts.