Engineering exchange student brings Lanchester car back to life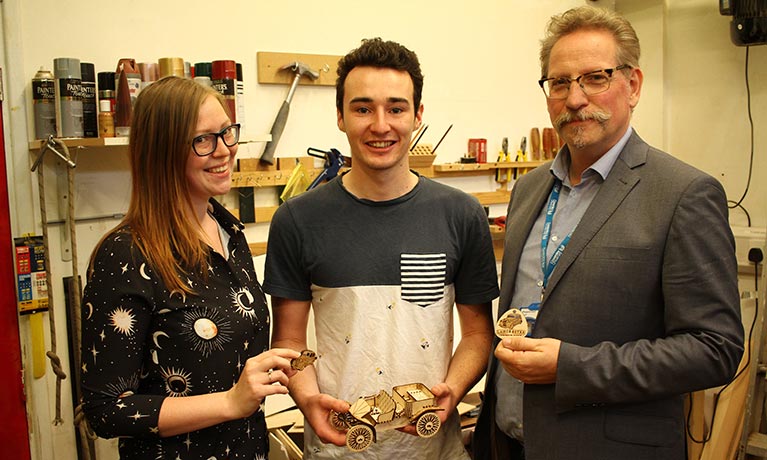 ---
Monday 09 September 2019
Press contact
---
A French engineering student on a summer placement with FabLab Coventry has brought the Lanchester heritage to a new generation by developing a classic model of the 1902 Lanchester 10 horse power car.
Theo Kervella, who joined the FabLab as part of his exchange study from I-CAM Grande Ecole française, worked on a collaborative project developed by Anthony Hughes, the new head of the Lanchester Interactive Archive, and delivered in partnership with FabLab.
The Lanchester Interactive Archive is a unique archive collection based in the Coventry University library. It contains a wealth of personal items relating to Frederick Lanchester, a pioneer of the design and developments of the motor car, theories of aerodynamics and a huge variety of inventions in other disciplines.
The archive is an amazing collection and has unique artefacts including sketchbooks and blueprints belonging to Lanchester donated to the University while it was still Lanchester Polytechnic (The Lanch), named after Fred. I wanted to see if someone could develop a model of the 1902 Lanchester 10 horse power car. This was a revolutionary design based on Lanchester's first British four-wheel-drive car. Theo was very interested in this as a project to work on and came to look round the archive and public exhibition space, which is based on the second floor of the University Library. This kit will build on the heritage of the Lanchester Archive, which is so significant in the development of Coventry's automotive manufacturing history. The model will be displayed as part of our plans to demonstrate the use of the archive by students in research projects.

Anthony Hughes, head of the Lanchester Interactive Archive
Kervella used the original blueprints to bring the car to life and created an amazing kit that can be laser cut from just two sheets of A4 ply and assembled without any need for glue! He created 3D CAD designs on the computer, before breaking the design apart into a 2D vector format for prototyping using the laser cutter.
Methodical in his approach, Kervella tested out different parts of his design using various different scraps and off cuts of material. Once he was happy with all of the test pieces, he then spent a further week laser cutting all the individual elements using 3mm laser plywood and assembling them one-by-one for the final product.
We were so lucky to be given an opportunity to have Theo with us for 11 weeks on an international placement from iCam. Theo is currently part way through his five-year degree in product engineering and when the Lanchester Archive approached us with this project, we felt it was a perfect fit for Theo to put his product engineering skills into action, as well as learning more software supported by FabLab's resident entrepreneur in model designing.

Helen Lewis, FabLab manager
Key facts about the car
1902 Design
The car demonstrated its 4 wheel drive design by driving up the steps of Crystal Palace exhibition in 1904
One fan and owner of the new cars was Rudyard Kipling who purchased his in 1902
The car did not have a steering wheel as it was, instead, steered by a tiller
The car featured uniquely designed suspension that allowed one wheel to be raised two feet off the ground without distorting the chassis!