Coventry University study to find best way to provide local stop smoking information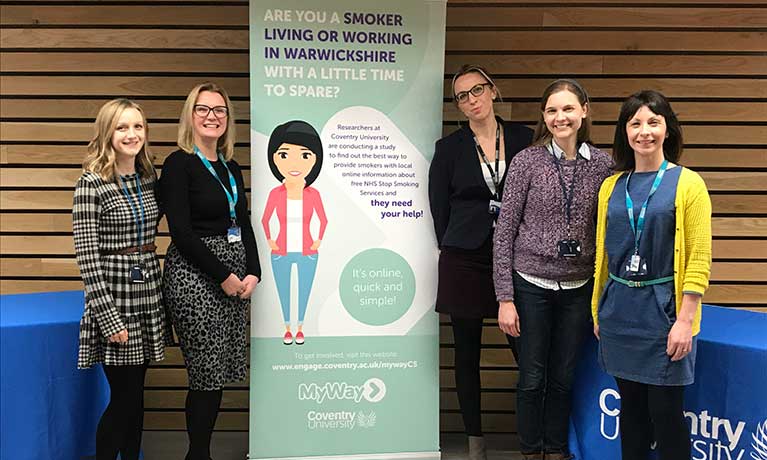 ---
Wednesday 13 February 2019
Press contact
---
People who smoke in Warwickshire are being given the chance to participate in a Coventry University research study.
The National Institute for Health Research funded 'MyWay' seeks to find the best way to provide smokers with local online information about free NHS Stop Smoking Services.
Running until the end of March, the study is open to any smokers aged 16+ who live or work in Warwickshire.
Lead researcher at Coventry University, said:
We know that smokers who attend NHS Stop Smoking Services are four times more likely to stop smoking but uptake of these services is in decline. This is why it is so important to harness technology and look at the best way we can provide smokers with information about the services available locally. "We would like to invite anyone who smokes, aged 16+ who lives or works in Warwickshire to take part and help themselves and other people like them to quit for good in the future."

Professor Katherine Brown
Pro-Vice-Chancellor from the university's Faculty of Health and Life Sciences, said:
We know that stopping smoking is one of the best thing someone can do to improve their health and for many people, having a network of support can make all the difference. We want to ensure that system of support is open to everyone looking to make big changes to their health across Coventry and Warwickshire."

Professor Guy Daly
Other 'MyWay' partners include Warwickshire County Council Public Health, University of East Anglia, The University of Nottingham, University of Birmingham and Pinnacle Health Partnership.
To take part in the study or find out more visit https://www.engage.coventry.ac.uk/mywayCS