Coventry University spreads its wings to raise money for Guide Dogs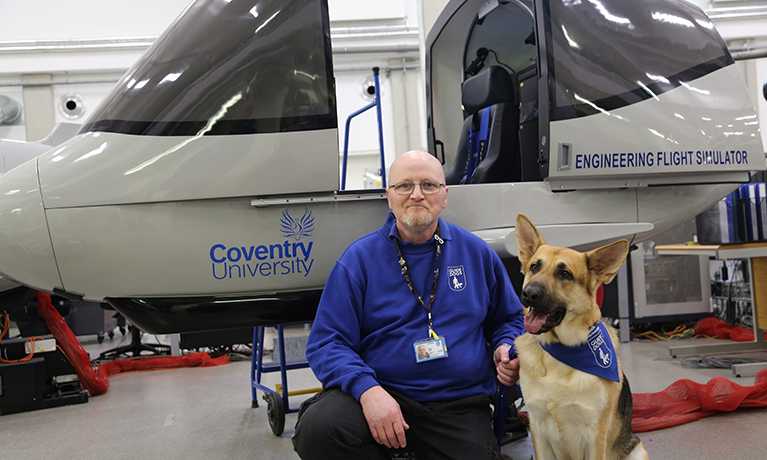 ---
Monday 23 December 2019
Press contact
---
Coventry University has opened up its flight simulators to staff and their family and friends to raise £400 for Guide Dogs for the Blind.
The Faculty of Engineering, Environment and Computing hosted an event in which they opened up a number of flight simulators, which are located in the university's Engineering and Computing Building. Those who went along for the event could donate money to Guide Dogs in return for a full motion flight experience in their choice of aircraft from a Harrier Jump Jet to an Avro Vulcan.
The funds will all go to Guide Dogs for the Blind, their work supports those with sight loss to help them live their lives to the full. As well as training and providing guide dogs to those who need them, they also offer a number of support services to people living with sight loss.
Coventry University opens up its flight simulators every year to raise money for the charity. Normally the flight simulators are used by students studying Aerospace Systems Engineering, Aerospace Technology BEng and Aviation Management BSc to give them real-life experience.
It was great to see such a good turnout of people enjoying our flight simulators for the last few days. Guide Dogs is such a worthy cause and we are pleased that we could help them with our fundraising efforts so they can continue their invaluable work.
As a charity Guide Dogs are predominately funded by voluntary contributions so are extremely grateful to Coventry University ECB faculty for their support and brilliant fundraising initiative. On average, each Guide Dog partnership costs in the region of £60,000 which includes, breeding, puppy walking, training and supporting the working partnership until the dog reaches retirement age.
For more information about Guide Dogs please visit the Guide Dogs website: