Coventry University professor honoured with Fellowship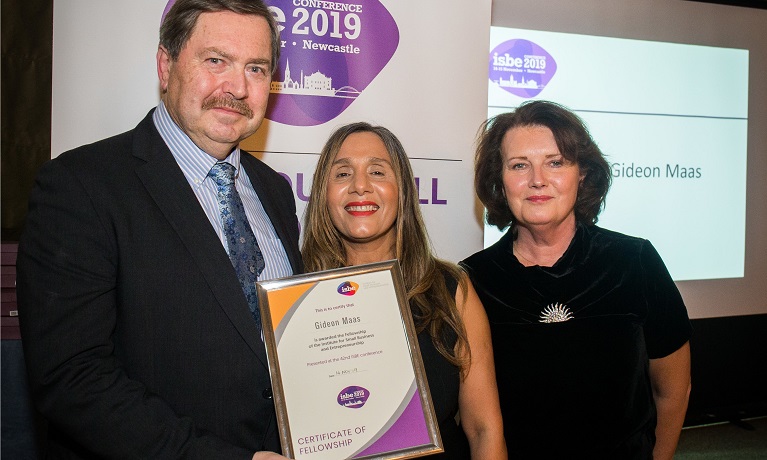 ---
Thursday 05 December 2019
Press contact
---
Coventry University's Professor Gideon Maas has been awarded a Fellowship from the Institute for Small Business and Entrepreneurship (ISBE).
The ISBE Fellow status is awarded on behalf of the network to experts in the field of small business and entrepreneurship research, policy, practice and education who have made significant contributions to the work of the institute.
A professor in professional practice at Coventry University and Executive Director for the university's International Centre for Transformational Entrepreneurship (ICTE), Prof. Maas received the Fellowship at a gala dinner during the annual International ISBE Conference, with more than 300 academia and entrepreneurs in attendance.
A board member since 2014, Prof. Maas recently stepped down from his role as ISBE President after two years, having also previously held the roles of vice-president and deputy president.
During his tenure as president, he worked to further the internationalisation of ISBE through online workshops and participation in conferences around the world, including in China. He also led the ISBE in feeding into national matters, such as the Government's Industrial Strategy and the consultation for the 2020 Knowledge Exchange Framework, which will measure how universities benefit society and the economy through the knowledge they create.
In his new role as Fellow, Prof. Maas will continue to support the growth of the ISBE network, which has a network of over 500 members and 4,000 contacts in the small business and entrepreneurship field. He will remain on the board for ISBE for the next year.
It is my honour to continue to act on behalf of the ISBE, utilising my position across sectors to widen the reach of the network and broker key partnerships. After serving for five years on the board, I have seen first-hand the impact that can be made when academia and industry come together to act as a driving force for excellence in business and entrepreneurship. I am absolutely delighted to be recognised by my peers and to be inducted into a group of such highly-regarded experts. It's a great honour to be asked to speak at this event and I hope the audience will be receptive to my message - which is all about what I hope for the future of young people's mental health, with emphasis on how culture and sport can play a role in this.

Prof. Gideon Maas