Coventry University launches MA in Dance Theatre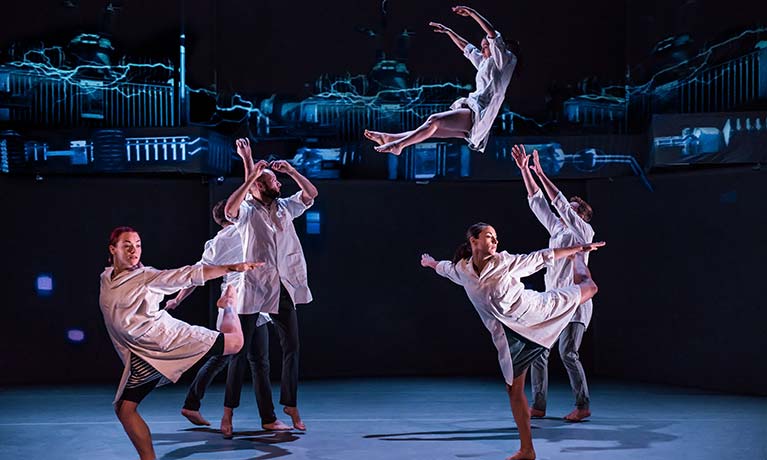 University news / Student news
---
Tuesday 08 October 2019
Press contact
---
Coventry University has entered a partnership with Motionhouse to launch a new MA in Dance Theatre to be delivered by Coventry University in association with the dance-circus company.
The course will offer students the opportunity to develop professional level dance-theatre making and performance skills.
The first cohort of students starts in January 2020.
Dance theatre, circus and spectacle is a growing area of the performing arts professional world. These performance genres cover a broad range of theatrical activities from the extravaganza of the opening and closing ceremonies of the 2012 London Olympics to Motionhouse's own Broken production which combines athletic contact work and spectacular acrobatics with an amazing musical soundtrack and digital imagery to examine humans' precarious relationship with the earth.
Students enrolling onto the new dance theatre course will join Coventry University's established School of Media and Performing Arts and will have the opportunity to benefit from facilities both at the Coventry campus and the Motionhouse professional studios in Leamington Spa. They will study with leading professionals in the field, thereby gaining insights, experience and knowledge to develop their own dance-theatre, choreographic and performance skills as well as industry skills and networks.
The course has been designed to prepare students to be innovative and adventurous performers, choreographers, educators and researchers. It aims to provide them with an advanced understanding and associated skills in performance techniques, choreography, teaching and production.
This exciting new course offers the chance to gain industry-relevant expertise and study through a blend of practical performance projects, workshops and interdisciplinary work with one of the most exciting dance companies in the UK.

One of the main aims of our MA in Dance Theatre is to deliver employability for graduates by providing them with the skills and creative talent that will give them an edge.

Dr Sara Reed, Principal Lecturer and Associate Professor of Dance and a member of C-DaRE, (Centre for Dance Research at Coventry University)
The MA in Dance Theatre is a really great opportunity to spend some considered time looking at how work is made, allowing people to develop their own process of creation and to creatively play with it in practice.

The course is open to students from a range of backgrounds including performing arts, dance, circus, theatre and choreography who will be exposed to practical performance projects led by Motionhouse, alongside research events and seminars with leading academics and industry professionals involved in production, project management and funding.

Dr Kevin Finnan MBE, Artistic Director of Motionhouse
Kevin is known for his dynamic, highly visual productions integrating dance, circus and digital technology. He is regularly commissioned to develop extraordinary dance spectacles, most notably as Choreographer and Movement Director of the Opening Ceremony of the London 2012 Paralympic Games.
Potential students for the MA in Dance Theatre will be able to join two taster sessions on the 9th and 19th of November.