Event showcases future of AR/VR technologies to creative businesses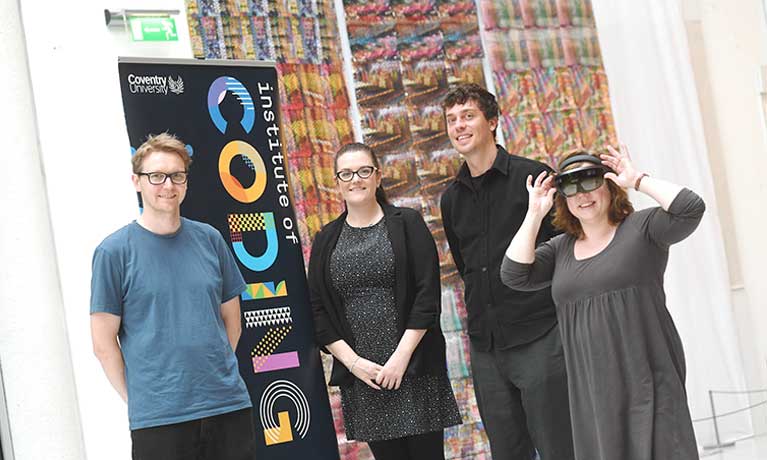 University news / Student news
---
Friday 24 May 2019
Press contact
---
Coventry University's Institute of Coding have co-hosted an event exploring how museums and creative businesses might work in a virtual world in the future.
The Institute teamed up with the Herbert Art Gallery and Museum to support the creative sector in navigating the complex world of Augmented and Virtual Reality (AR/VR).
The event was centred on a roundtable discussion on how to best utilise the new technologies before an afternoon workshop took place introducing attendees to some of the hardware involved.
It was attended by representatives from museums across the country, Coventry's City of Culture delivery team, and the University of the Arts London, which was designed to open their eyes to how AR/VR can boost their understanding of its practical uses.
The day was also organised to help the Institute of Coding shape training courses around the technology by analysing what kind of job opportunities could be created by companies looking to utilise AR/VR.
The Institute of Coding is currently preparing a range of courses aimed at everyone from management positions and below across a variety of sectors, to help build a greater understanding of technology.
A lot of businesses in the creative sector could massively benefit from working with AR/VR but need to build their understanding before investing.

That could include getting a grasp of the cost behind purchasing equipment or commissioning someone to create an immersive experience at their site, or even just a general understanding amongst their team.

As we look to create our portfolio of courses, the opportunity to hear first-hand from such a wide-ranging group on what they know about AR/VR and what they may need from it is invaluable.

We now have a better idea of the type of skills that are going to become more and more prominent as the technology continues to grow.

Louise Phipps, Business Development Manager at Coventry University's Institute of Coding
Kerrie Suteu, Creative Media and Digital Manager at the Herbert Art Gallery and Museum, said:
"Working with the Institute of Coding Coventry University on this event has been a positive experience for us.
"The interest it has generated and the dialogue during the roundtable discussion has shown us the potential of AR/VR for museums such as ours and highlighted how this can be done in simple terms over the coming years."
For more information about the please visit the Institute of Coding website.