Coventry University and Egypt strengthen links with ministerial visit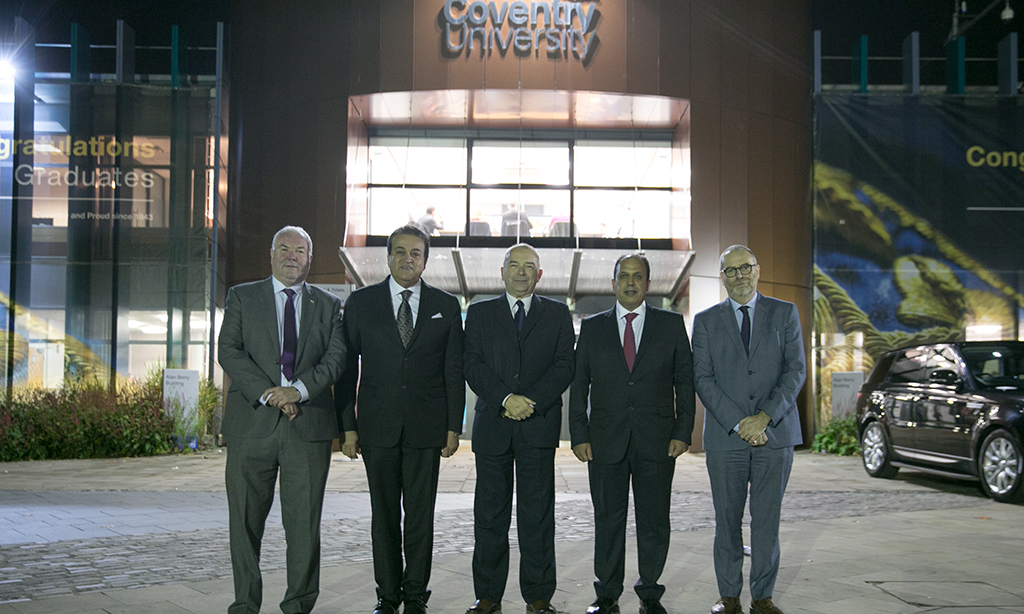 ---
Friday 22 November 2019
Press contact
---
Egypt's Minister of Higher Education and Scientific Research, Professor Khaled Abdel-Ghaffar, visited Coventry University on Wednesday and met with Vice-Chancellor, Professor John Latham CBE.
The visit demonstrates the strengthening of ties between the university and the country, following the launch in September this year of a branch of Coventry University at The Knowledge Hub Universities in Egypt.
The branch welcomed its first students in September on undergraduate courses across the newly formed schools of Engineering, Computing, and Design and Media.
Prof. Abdel-Ghaffar toured the Coventry University campus and reviewed facilities in the Health and Life Sciences and the Engineering, Environment and Computing faculties.
Prof Abdel-Ghaffar's visit is a great honour to the university and I am delighted that we have forged an important and mutually beneficial relationship with Egypt. Through our branch at The Knowledge Hub, we are excited to be contributing the teaching expertise and innovative learning environment that we have become known for around the world. We look forward to our presence in Egypt further strengthening our ties with peer organisations internationally.

Prof. John Latham CBE, Coventry University Vice-Chancellor
I'm delighted to visit Coventry University and see its world class facilities. In Egypt, we are focused on improving the quality and relevance of higher education to match with the needs of new learning technologies and human resource development. Accordingly, my ministry has begun enhancing the internationalisation of higher education and boosting cooperation with other countries. I'm pleased that Coventry University has led the way for other international universities by launching its branch at The Knowledge Hub Universities.

Prof. Khaled Abdel-Ghaffar, Egypt's Minister of Higher Education and Scientific Research