Coventry graduate receives 'Young Achievement Award'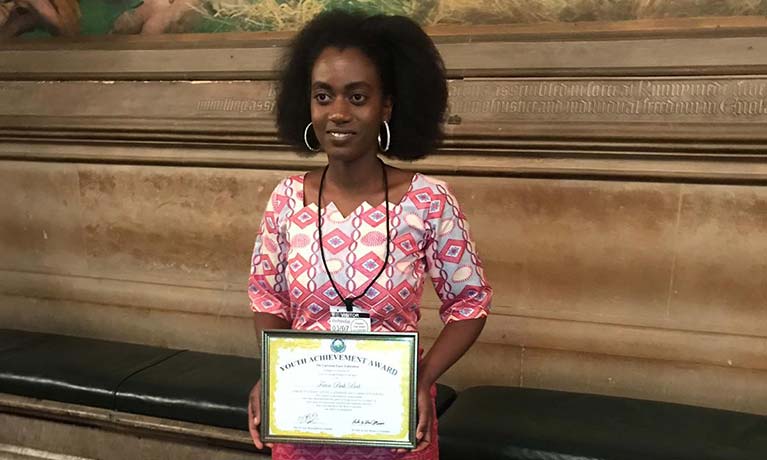 ---
Wednesday 10 July 2019
Press contact
---
Fatou Bah Bah, who graduated from Coventry University with a first class honours degree in International Leadership and Management in Health and Social Care last year was presented with her award at a ceremony in the Houses of Parliament.
Fatou was recognised by the Universal Peace Federation, an interfaith peace-building organisation, not only for her academic accomplishments but also her commitment to global social justice. In 2017, whilst still studying for her first degree, Fatou co-founded Ebou Mala Children's Charitable Foundation (EMCCF). EMCCF works with vulnerable children in The Gambia by providing them with support to get a better education and access to better healthcare.
Commenting on receiving the Young Achievement Award, Fatou said:
Receiving the Young Achievement Award demonstrates that hard work and determination pay off. I am grateful to staff at Coventry University who gave me all support and resources I needed, especially with English not being my first language, and without that I would not have achieved what I have.

Coventry University has made a big impact on the person that I am today. It has helped me grow in confidence and develop leadership skills.

Fatou Bah Bah, Coventry University graduate
Fatou plans to return to Coventry University in January 2020 to embark on the next stage of her academic career. Fatou will be in the first cohort of students on the new Global Social Development Management (with Professional Experience) MSc course.
The Global Social Development Management MSC is designed to develop future managers for social development organisations such as Non-Governmental Organisations (NGOs) to facilitate and develop key management skills using technology fostered through experiential learning.
Fatou is an inspiring young woman and we are delighted that her achievements have been recognised in this way by the Universal Peace Federation.

We're a global university whose outlook is focused on engaging with our students and giving them a quality international learning experience. Coventry University seeks to equip our students with the skills and experience that they need to go out and make a mark on the world.

Ian Dunn, Provost, Coventry University