Coventry a major force in global conflict resolution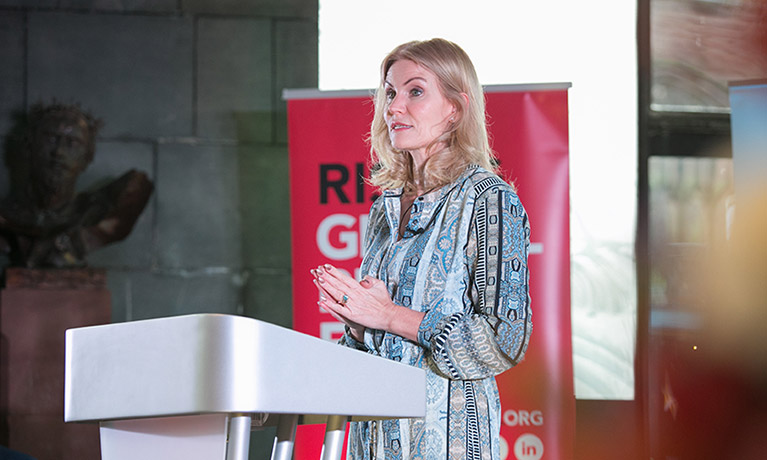 ---
Monday 18 November 2019
Press contact
---
The RISING Global Peace Forum will ensure that Coventry continues to be a major force in conflict resolution across the world, Professor Mike Hardy, chair of RISING and Executive Director of the Centre for Trust, Peace and Social Relations at Coventry University, has said.
Prof Hardy, who is also the event's founder, was speaking after the successful hosting of RISING19, which ran from 13 to 15 November at Coventry Cathedral. Two female former Prime Ministers and a host of international figures discussed the Ecosystem of Peace in a series of RISING19 talks, seminars and panel events, which saw people travel to the city from five continents.
Prof Hardy said the influence of RISING was becoming deeply rooted in the peace and conflict-resolution community across the world.
Clearly Coventry has a reputation as the city of peace and reconciliation which is recognised globally, and the aim has always been for RISING to use that to help influence the bringing about of peace in countries across the world. We knew that this would not happen overnight but there was certainly a feeling this year that RISING's influence and reach is markedly increasing. RISING is seen as a forum to debate and discuss how peace can be brought about, and the variety of speakers this year – and where they have come from – only serves to prove that.
RISING was launched in 2015 as a partnership between Coventry University, Coventry Cathedral and Coventry City Council as a platform to promote peace and has spawned events in Colombia, the US, Mexico and Northern Ireland, and increased the city's standing as a source of inspiration for peace and a force for conflict resolution.
Former Australian Prime Minister Julia Gillard and former Danish Prime Minister Helle Thorning-Schmidt, who went on to become CEO of Save the Children, were among the headline speakers while Baroness Chakrabarti delivered the Lord Mayor's Peace Lecture.
I was completely honoured to speak here in this amazing building and it is heart-warming that we have come together to discuss peace.
Next year's RISING Global Peace Forum will take place on November 11-13.