CBiS hosts well-received electric vehicle workshop at Silverstone Park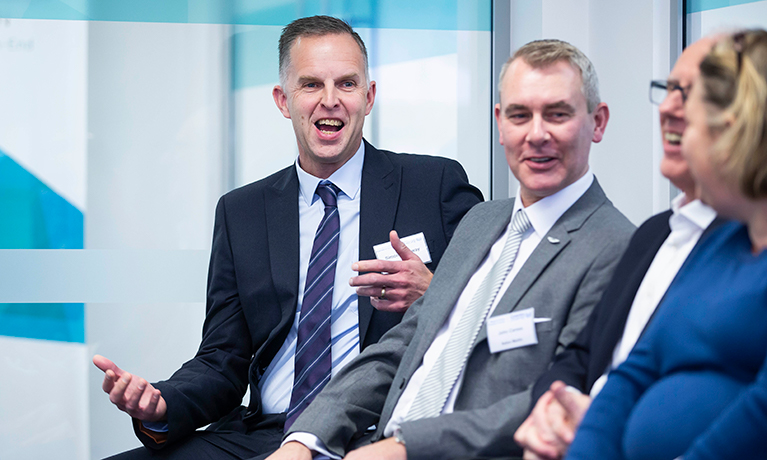 ---
Friday 13 December 2019
Press contact
---
Coventry University's Centre for Business in Society (CBiS) hosted a well-received workshop on the future of electric vehicles at Silverstone Park attended by 50 guests, including senior academics, policy, business and industry figures.
Held under the title 'The Electric Vehicle Transition: A Watershed Moment?', the event was in collaboration with the Silverstone Technology Cluster and included break-out networking sessions for its guests.
The audience was able to put questions to the speakers and also to an industry panel that included Aston Martin, Millbrook Proving Ground, the FIA Formula E Championship, RML Group and Straight 6 Design.
The event has very much met our objectives and hopes in bringing together industry stakeholders, academics, industry and policy-makers – it's been fascinating and thought-provoking. It's been more than just delivery of information and instead very much a two-way process: in the lunchtime people were networking and discussing how what they had heard related to their areas of work. We immediately have five people who want to come and have further conversations about how they might work with us. I am sure all the speakers will take something away from this event – there were some valuable questions that they've perhaps never been asked before. We very much hope this is the start of a longer term relationship with Silverstone Park and the Silverstone Technology Cluster. It's a great facility and a really helpful team of people.

CBiS Co-Director Dr David Jarvis
Respected global automotive industry figure and director of Rimstock, Glenn Mercer agreed, following his presentation into patterns and perceptions among motorists in the USA and Canada.
It's been very interesting, and especially refreshing was that the speakers had a pragmatic approach – with very little soapbox shouting – towards what it will take to accelerate the adoption of EVs. It might sound clichéd but it's good to have the interface between government, academia and business and all three were brought together here – when that happens, people let down their defences a little and have some valuable interchange.

Glenn Mercer
The Low Carbon Vehicle Partnership (LCVP), part funded by the Department for Transport, collects consumer and industry data that can help influence government policy.
It's good to get into a community that is genuinely interested in and understands the fundamentals from an engineering and marketing perspective. We've been given an insight into and looked beyond the technology and seen how that's going to work in society within the policy framework of government. People have also been challenged on various topics but in a constructive way. One of the challenges is how we connect with communities far and wide in the UK: so using a network like the Silverstone Technology Cluster to access some really intelligent and hard-working people who are at the coal face is vital for an organisation like the LCVP in terms of making those connections.

Andy Eastlake, LCVP Managing Director