Coventry University experts creating virtual reality patients that health students can 'touch'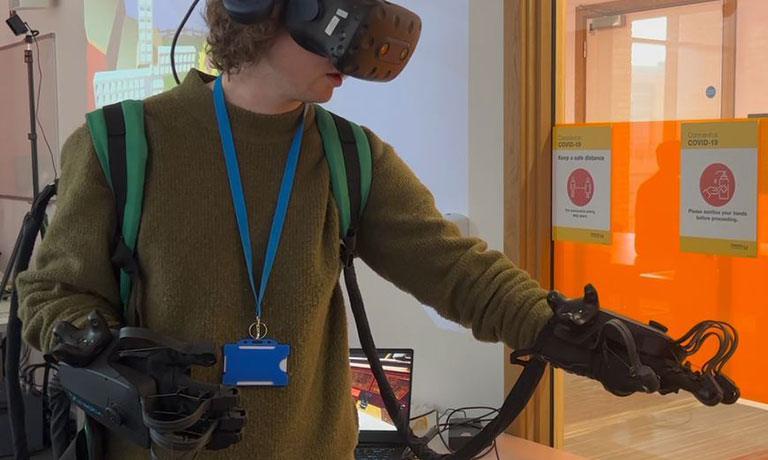 Student news / Research news
---
Tuesday 06 June 2023
Press contact
---
Simulation and health experts at Coventry University are working together to create simulated patients that students can 'touch' in virtual reality.
The university is at the forefront of exploring Virtual Simulated Placements (VSPs) to enable the training of more health professionals.
This new work involves the use of haptics - the science of touch – and is led by Marc Gilbey, an Assistant Professor in Coventry University's Faculty of Health and Life Sciences and a researcher in the Centre for Healthcare Research.
Drawing from his experiences in education and practice as a physiotherapist, he says it is not always possible or safe for students to encounter patients with serious diseases and injuries.
That inspired him to pursue a PhD in haptics - the science of touch - and work with, Coventry University's healthcare simulation team, to support their work with VSPs.
Together they hope to create a virtual clinical world with physical touch interactions, made possible by a haptic glove, that will help students learn medical interactions that they will use in their graduate roles.
At the minute if you talk to people about how they interact in the virtual world they will talk to you about triggers or buttons but in the real world we don't push buttons or triggers when we touch our patients.

We use a lot of different types of touch and hand positions to replicate manoeuvres we want to do on our patients.

We can't do that at the minute in extended reality and that is where haptic technology and haptic gloves give us the ability to utilise virtual reality and our own physical motion to create the two.

This research is hopefully the start of something special.

Marc Gilbey, Assistant Professor in Faculty of Health and Life Sciences
We are creating a new virtual interactive clinical environment which will be informed by our curriculum and utilise Marc's work with haptic technology.

Our plan is to use gloves to mimic the use of your hands in the virtual world and perform simple interactive tasks that need physical interaction. For example, taking a pulse.

This development could change the face of healthcare education by giving us the ability to provide a more innovative placement opportunity and develop more patient-ready health professionals, many of whom will go on to boost the NHS workforce.

Dr Natasha Taylor, Curriculum Lead and Associate Professor for Simulation
Find out more about starting your career in health at Coventry University.