Ukrainian student who fled Russian invasion says Coventry University Group scholarship helped him build a new life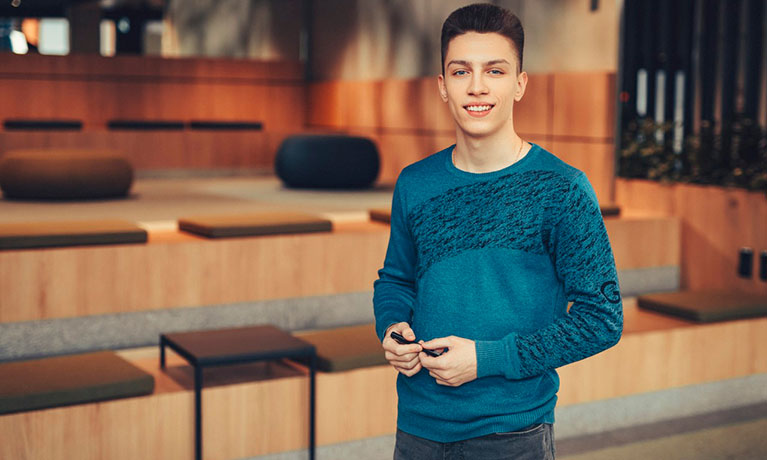 University news / Student news
---
Monday 19 June 2023
Press contact
---
A Ukrainian student who fled war says a Coventry University Group scholarship has helped him build a new life in Poland.
Yehor Boiko is one of eight million refugees from Ukraine displaced across Europe since the Russian invasion began in February 2022*.
When he fled his home city of Kharkiv, which has suffered heavy damage in the conflict, he did not just say goodbye to his family, friends and home, but also paused his studies at Simon Kuznets Kharkiv National University of Economics.
Yehor's immediate future was unknown, but the launch of Coventry University Group's scholarship in July 2022 gave him an opportunity to continue his education journey.
The scholarship is available to all war refugee applicants living in Poland who want to begin their undergraduate studies at Coventry University or transfer to the university's Polish campus in Wrocław.
The scholarship gives successful applicants a 50% discount on the home tuition fee for the length of the study programme of any full-time undergraduate course at Coventry University Wrocław.
Yehor is one of four Ukrainian students to have successfully applied for the scholarship, and says he is thankful to the university as he prepares to complete the first year of a Computer Science degree.
It was a hard decision to move to Poland and tough at the beginning, but I've settled in after joining Coventry University Wrocław. The course will give me lots of career options, my lecturers are engaging, and I've made lots of friends from different countries.

A lot of people in Ukraine have had, and have, financial problems due to the war and that is why this scholarship has made a difference to me. It was hard for me and my family, but this scholarship has made starting university in a new country more accessible.

I'm so grateful to Coventry University Wrocław for this opportunity. I did not want to put my life on hold and this scholarship has helped me continue my education journey.

Yehor Boiko
As Ukraine's neighbour, the situation is close to our hearts because of the number of refugees that are currently calling Poland their temporary home.

We believe in the power of education and removing barriers to education, that is why we wanted to open this scholarship up not just to refugees who have been affected by the war in Ukraine, but also to all refugees in Poland who are fleeing conflict from around the world.

It fills me with pride to see how this scholarship has already made a difference for Yehor and to the lives of our other scholarship students. I hope we can continue to help more students like Yehor establish a new beginning in Wroclaw.

Dr Jacek Lewandowski, Director of Coventry University Wrocław
This is a great example of how our global education group is delivering better futures for our students across the world.

We are proud to have made it possible for Yehor and his fellow scholarship students to continue their education journey.

Coventry University Group Vice-Chancellor, Professor John Latham CBE
Find out more about Coventry University Wrocław
*Figures taken from UNHCR.